St Leonards crash death driver 'at risk of seizures'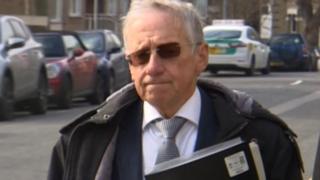 A man accused of causing the death of a Sussex boy in a crash had a significant risk of having a seizure after brain surgery, Hove Crown Court has heard.
The possibility Richard Stemler fell asleep could not be ruled out but it was more likely a seizure, consultant neurologist Dr Khaled Abdel-Aziz said.
The car hit a pedestrian island and then Harley Simpson, 11, in St Leonards on 22 October 2016, jurors have heard.
Mr Stemler, 70, denies causing death by dangerous driving.
The court has heard Mr Stemler, formerly of Wishing Tree Road, St Leonards, but now of Ethelburt Avenue, Southampton, had undergone brain surgery in Spain to remove a benign tumour about five months before the crash.
Dr Abdel-Aziz, who examined Mr Stemler in the months after the crash, said studies showed the risk of a seizure was about 12.5% in someone with no prior history of seizures before surgery.
"It's a significant risk, certainly much higher than in the background population, significant enough to be barred from driving," he said.
He said in Britain it is a doctor's duty to tell a brain surgery patient they must advise the DVLA of their condition and they would then be barred from driving for at least six months.
The court heard medical notes from the hospital in Spain did not show Mr Stemler had been told he must not drive and he must inform the authorities.
Dr Abdel-Aziz said Mr Stelmer told him doctors at the time had advised him against driving for a few weeks and he waited five weeks before driving again.
Judge Jeremy Gold QC asked: "You can't rule out the possibility that he simply fell asleep?"
Dr Abdel-Aziz replied: "I can't rule it out, no."
The judge asked: "But you think it was more likely a seizure?"
The doctor replied: "I think so. There was clearly a significant risk factor of seizure."
The case continues.