Man attacked, bundled into car and left in Crawley stream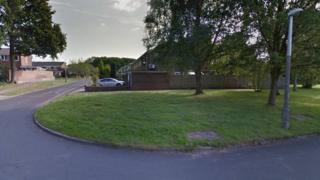 A man has been knocked unconscious, driven off in a car and assaulted again before being thrown into a stream.
The 20-year-old was attacked while walking along St Leonard's Drive in Furnace Green, Crawley, at about 23:45 BST on Monday, said Sussex Police.
Three men then bundled him into a car and hit him in the face, before driving a short distance, police said.
He was then pulled from the car - in what was thought to be Rosamund Road.
After being dragged down a footpath into woods he was assaulted again and dumped in a stream, thought to be Stanford Brook.
His attackers left him in the water, but he managed to get out and cross a railway line before calling police from Beckford Way.
The three men were unknown to their victim, who needed hospital treatment after the attack.