Christ's Hospital School 'soft approach over abuse claims'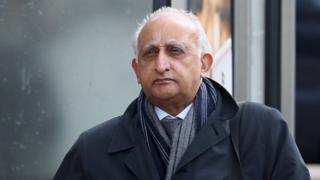 A headmaster took a soft approach over claims about a teacher's inappropriate behaviour because he was "popular" and a "success story", a court has heard.
Richard Poulton, former head of Christ's Hospital School, said he knew of complaints for three years before he asked for Ajaz Karim's resignation.
Mr Karim, 63, of Hammersmith, denies sex offences at Brighton Crown Court.
Jurors have been told Mr Karim massaged a "virtually naked" student and pushed another against a wall and kissed her.
Mr Poulton, headmaster at the Sussex school from 1987 to 1996, said he made it "absolutely clear" to Mr Karim his behaviour was unacceptable after two complaints in 1990.
In 1992, a father claimed Mr Karim was making unwanted visits to his daughter's room and in 1993 another student complained of massages and kissing, after which the teacher left, Mr Poulton said.
'Threat of massage'
Asked why he did not sack Mr Karim, Mr Poulton said: "Asking for his resignation was perhaps a soft way of bringing our contract to an end.
"In many ways he was very popular. He was a success story in Christ's Hospital terms having come to us as a refugee and being given an education before returning to teach."
The 75-year-old told the court he had no knowledge of any of the claims being "sexual", describing the allegations as "over-familiarity", "undue physicality" and a "threat of massage".
He told the court police and social services were not involved and deputy head Elizabeth Cairncross mainly handled the complaints, which were denied by Mr Karim.
He said he never heard of one claim that involved Mr Karim giving a student a "full frontal body massage".
The court heard Mr Poulton wrote to Mr Karim's solicitors in 1993 and said: "I did not charge Mr Karim with sexual harassment.
"Had I done so, and had the charge been proved, he would, of course, have lost not only his job but also his chance of getting another one in any school."
He also wrote two girls had "considered taking legal action but did not wish to be held responsible for destroying his career".
The trial previously heard from an alleged victim who said housemaster Bob Sillett, a senior staff member, implied she would risk being named in the press if the school dealt with Mr Karim "publicly".
She said: "There was the implication that my name might be published."
Mr Karim, of Baron's Court Road, denies nine indecent assaults and one attempted indecent assault against six girls aged 14 to 18 between 1985 to 1993.
The trial continues.