Man seriously hurt in Brighton 'road rage attack'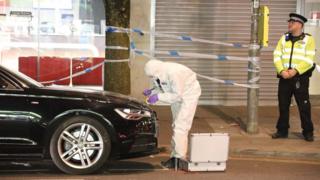 A man has suffered serious head injuries in a suspected road rage attack.
The 37-year-old man was hit on the head with what was thought to be a steering wheel lock in London Road, Brighton, at 19:50 BST on Saturday.
Det Sgt Donna Ward, of Sussex Police, said two cars had been involved in a road rage incident, which lead to an argument between the occupants.
Two men from London, aged 37 and 39, have been arrested.
Police are appealing for witnesses.
Det Sgt Ward added: "We believe there was a bus going past the two vehicles at the time of the incident.
"We are appealing for anyone on that bus or members of the public walking past to come forward with any information they may have."