Jillian Howell death: Victim 'had bully scrawled on head'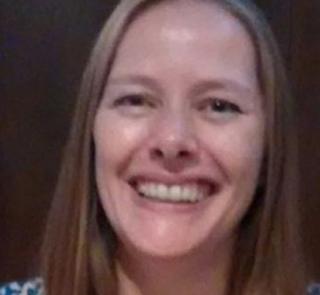 A payroll boss who was fatally stabbed by her deputy had "bully" scrawled on her forehead, a court heard.
Jillian Howell, 46, was found with multiple stab wounds at her home in Sandgate Road, Brighton, in October.
David Browning, 51, of Willow Drive, Seaford, admits killing Ms Howell, his boss at the University of Brighton, but denies murder.
Mr Browning had developed an intense attachment to her, prosecutors have told Hove Crown Court.
He had expressed some unhappiness with Ms Howell's management and his workload in the payroll department, the jury heard.
However, prosecutor Alan Gardner said that since June 2017 they had been seeing each other socially outside work.
'I've killed my boss'
On 25 October, 2017, the married father-of-two had gone to Ms Howell's house for dinner, the court heard.
Ms Howell - who volunteered with the Samaritans - had been trying to help the defendant deal with depression after the death of his father.
On the night she died they drank wine and ate curry, but the jury was told that at some point Mr Browning pulled a knife out and stabbed her.
In total Ms Howell was stabbed 15 times - eight times in the neck, six in the chest and once in the back.
Early the next morning Mr Browning appeared outside a Brighton police station, where he told officers he had a shotgun and had tried to kill himself.
Officers found he had a gun and knife but appeared "calm, coherent and collected".
When asked what happened, he said: "In a nutshell, I have killed my boss", the court heard.
He directed officers to Ms Howell's home where they found her body with bully "scrawled" across her forehead in marker pen.
There was graffiti scribbled across the walls, allegedly by Mr Browning, implicating a close friend of hers in the death, but the court heard that he was not involved.
'Jealousy and anger'
Mr Gardner told the court: "This was the carefully-planned, premeditated murder of a woman in her home by a man she trusted... a man she was trying to help."
He told the jury Mr Browning feared she was about to reject him and planned to kill her out of jealousy and anger.
The married father-of-two denies murder but admits manslaughter by diminished responsibility and possession of a knife in a public place.
He claims he stabbed Ms Howell after she urged him to go to hospital and he feared she was trying to get him sectioned.
Jurors were told he sat in the living room for two hours afterwards and posted a picture on his Facebook profile which said: "Stand up to bullies ... then kill them".
The trial continues.