David Browning guilty of Jillian Howell Brighton murder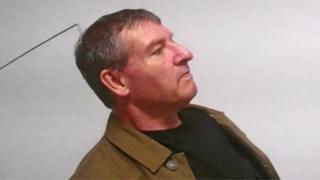 A man who stabbed his boss to death and wrote "bully" on her forehead has been found guilty of her murder.
David Browning, 52, admitted killing Jillian Howell on 26 October but claimed it was manslaughter on the grounds of diminished responsibility.
The jury at Hove Crown Court was told Browning went for dinner at her Brighton home and reacted with "anger and violence" when she rejected him.
Judge Christine Laing said he would be sentenced to life in prison.
"I need time to consider the minimum prison term he must serve before he can apply for parole," she said.
"It starts at a minimum of 25 years because he was carrying a knife to the scene of the crime, but I will also consider other factors."
The married father of two from Seaford, East Sussex, formed an intense attachment to his boss in the payroll department at the University of Brighton, and confided in her about his emotional problems, the jury heard.
Prosecutor Alan Gardner said Browning became "possessive, controlling and jealous" and planned the killing for months.
He applied for a firearms licence, bought a shotgun and knife, hired a van, and took a change of clothes to the crime scene.
Ms Howell told friends she felt manipulated when Browning demanded she must "never leave" her job or get a boyfriend and should be "concentrating on him", the jury heard.
Browning also wrote a "vitriolic" letter for her close friend Sean McDonald, which turned out to be part of a failed attempt to implicate him in the murder.
The jury was told Samaritans volunteer Ms Howell had urged Browning to get professional help after he confided in her about his depression and suicidal thoughts.
On his way to visit Ms Howell before stabbing her, Browning had posted suicide letters, the court was told.
Mr Gardner said: "On 26 October last year, he discovered she didn't have the same feelings as him. She rejected him and Mr Browning reacted with anger and violence."
Browning described the moment when - after sharing a curry - he stabbed her in the back as she bent down to tie a shoelace.
He told the court Ms Howell had grabbed the knife and screamed "you bastard", to which he replied: "I'm sorry Jill, this is what mental health does to you."
After stabbing her, Browning put his shotgun to his throat, but could not pull the trigger, Sussex Police said.
He then called Samaritans to talk about what had happened.
Mr Gardner said: "He offered, we know, no explanation for why he did it, only to say 'it must have been my depressive illness'."
He described Browning as a spurned admirer who is "deeply self-centred, selfish, a man with a vindictive streak".
In a statement, Ms Howell's family said: "Jill was a gentle and kind soul. She had an aura of calm and peace with a warm heart and an infectious smile.
"Jill's death was shocking and incomprehensible and we are still struggling to accept and make sense of it."
Browning will be sentenced on Thursday.