CQC criticises Brighton 'cleaning fluid death' hospital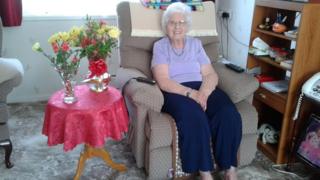 Cleaning chemicals were "not always being kept safely" at a hospital where a patient died after apparently drinking some, inspectors have found.
Joan Blaber, 85, died after apparently drinking cleaning fluid she thought was orange juice at Brighton's Royal Sussex County Hospital in September last year.
The Care Quality Commission (CQC) criticised the trust and told it to take steps to protect patients.
The NHS trust said it had improved how hazardous substances were managed.
'Safe use'
The CQC visited Brighton and Sussex University Hospitals NHS Trust's hospital a month after Ms Blaber's death and found unattended cleaning trolleys with hazardous substances on them.
Chemicals were also stored in unlocked utility rooms and kitchens, and staff were unclear about their responsibilities, the report said.
Amanda Stanford, CQC deputy chief inspector of hospital inspection for the South, said the trust had been told it must "ensure all products that are subject to the Control of Substances Hazardous to Health (CoSHH) regulations were stored securely".
"They must also introduce a system which gives assurance that information relating to all substances subject to CoSHH is available in every work area."
She said the information should be complete and accurate, and staff, including nurses, should be able to understand it, and be aware of the regulations and their responsibilities.
"The regulations governing the safe use of these cleaning products are there to protect people from harm. During our inspection we found that these chemicals were not always being kept safely," she said.
Dr Rob Haigh, medical director of the trust, said: "In the seven months since the inspection, we have taken significant steps to improve the way we manage potentially hazardous substances both in terms of staff training and the way these substances are stored and used, addressing the points published in today's report."
He said the incident involving Ms Blaber was reported straight away and immediate action was taken to prevent it from happening again.
David Liley, chief officer of Healthwatch Brighton and Hove, said its volunteers had observed rooms containing medicines and cleaning products being left open and it "entirely endorsed" the recommendations of the CQC report.
In a statement, Ms Blaber's family said it was saddened to read the CQC findings, but it hoped the hospital would commit to implementing recommendations.
An inquest into the death of Ms Blaber is due to take place later this year.