Brighton City Airport closes over 'WW2 device'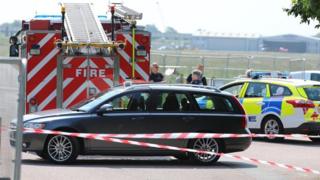 A Sussex airport was closed after workmen dug up what appeared to be a World War Two bomb.
Sussex Police said the device, found at about 09:00 BST, was some 700m (2300ft) away from the runway but within 100m (330ft) of the perimeter road.
A cordon was in place and Brighton City Airport, in Shoreham, was shut, with flights suspended.
Police, fire and bomb disposal teams went to the scene after the discovery of the 1ft (0.3m) long device.
The airport reopened on Wednesday afternoon.
A spokesman for the airport said contractors had been carrying out excavations for flood defences.
He said: "The airport immediately ceased all flights and the emergency services were called."
A 0.3 mile (500m) exclusion zone was put in place, he said.
Second alert in days
Bomb disposal experts identified the device as an "inert practice round" and there was no need for a controlled explosion, the spokesman added.
He said the device was removed, and the airport reopened 20 minutes later.
It was the second alert over wartime explosives within days in Sussex.
A sea mine discovered near Bognor beach at the weekend was detonated on Sunday.