South coast cliff falls spark #BeCliffAware selfie alert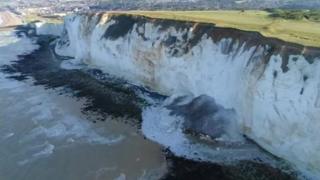 Cliff-edge selfies are not worth the risks, visitors to the south coast are being warned this summer.
A public information campaign has been launched ahead of the summer months, when visitor numbers to the famous East Sussex cliffs significantly increase.
Incidents involving people posing for photos have led to repeated warnings, and at Seven Sisters a student died.
Hyewon Kim asked a stranger to take her picture, but she jumped for the shot, lost her footing and fell.
Earlier this month, a family was seen taking a photograph on the cliff edge at Beachy Head.
A woman was seen holding on to the feet of a toddler as the youngster peered over the edge, while a man took the picture.
A second toddler was standing behind the group not holding on to anyone's hand.
In a different situation, head teacher Caroline Barlow had to defend her actions after a cliff-top photograph on social media led to claims of "risky behaviour".
But Ms Barlow, who had posted a picture of herself at Birling Gap, said she was a "good distance" from the edge and appeared closer than she was.
Social media drive
Coastguard Matt Pavitt said the landscape was constantly changing and the cliffs had overhangs and faults that could not be seen from the top.
"Cliff falls can occur at any time and can be significant, such as the 50,000 tonnes of rock which fell on to the beach at Seaford Head last summer," he said.
"We're reminding everyone to stay safe. Warning signs are there for a reason."
Seaford Head saw three cliff falls in 48 hours last June after a dry winter left the chalk brittle.
Search-and-rescue operations took place after two chalk falls and a section was later roped off.
Mr Pavitt said visitors were being urged to keep away from the edge and the base of the cliffs when on the beach.
"Don't risk going to the edge to take a selfie," Mr Pavitt said. "No photograph is worth risking your life for."
The campaign will see posters on bus routes and community notice boards and in visitor car parks, tourist information centres and language schools.
Safety messages are being shared on social media with the tag #BeCliffAware.
In East Sussex, the white cliffs stretch from Eastbourne past Beachy Head and the Seven Sisters to Seaford Head.
Visitors flock there throughout the summer to photograph the landscape and walk along coastal paths.
The campaign is being promoted by HM Coastguard, the National Trust, the South Downs National Park and Sussex Wildlife Trust along with East Sussex, Seaford, Wealden, Eastbourne and Lewes councils.
Anyone who sees anyone in danger, or witnesses someone who has fallen, is being urged not to try to rescue them but to call 999 and ask for the coastguard.