Bid to honour Brighton's 'forgotten' conjoined Hilton twins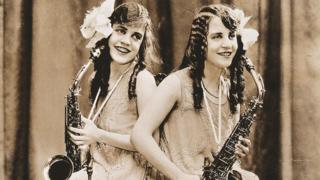 A campaign has been launched to honour conjoined twins who became international entertainment stars in the 1920s and 30s.
Violet and Daisy Hilton were born in Riley Road, Brighton, but were rejected by their unmarried barmaid mother.
Adopted by landlady Mary Hilton, who saw their financial potential, they toured Europe and the United States.
East Sussex historian Alf Le Flohic is leading a drive for a plaque at the house they were born in 110 years ago.
Mr Le Flohic said: "The twins were huge stars in their day - at the peak of their fame around 1927 they were earning $4,000 a week, about three times the average annual American salary, but they have largely been forgotten in the UK."
The twins were joined at the base of the spine and were exploited for their disability.
Just weeks after being born, they were put on show for money at The Queen's Arms pub in Kemptown, Brighton.
As adults they toured sideshows, vaudeville and burlesque circuits, singing, dancing, and playing various instruments.
They also appeared in two films - "Freaks" (1932), which was banned in Britain for 30 years for being too shocking, and "Chained for Life" (1952).
Mr Le Flohic said: "As adults the twins took the Hiltons to court and gained their freedom, but settled for only a portion of the money they had earned over the years.
"As a city that embraces people who don't necessarily fit the norm, they are definitely 'one of us' and deserve to be more widely known in Brighton.
"To add a further twist to the story, there were rumours that Violet preferred the ladies, and her husband Jim Moore was well known to be gay."
The twins' last show was in North Carolina in 1961.
Advances in modern medicine gave them the chance to be separated, but they decided to live out their last years together.
In 1969, they died within days of each other, reportedly from Hong Kong flu.
Brighton and Hove City Council and the current owners of number 18 have agreed to the plaque and £1,500 now needs to be raised to buy and erect it.