Offshore wind farm base opened by MP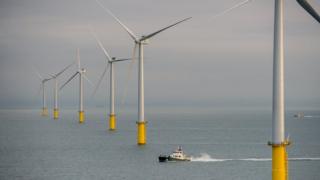 The base of a £1bn offshore wind farm which will provide energy for around 350,000 homes has been officially opened.
The Rampion project, off Brighton, has 116 turbines and will power the equivalent of half the homes in Sussex.
It is the first on the south coast and will be two-thirds the size of the London Array, the biggest offshore wind farm in the world.
The Array has 175 turbines in the Thames Estuary near Kent.
Lewes MP Maria Caulfield has opened the Rampion's Newhaven operations and maintenance base.
The wind farm will be completed in autumn 2019.
The farm stretches from East Worthing in the west, to Brighton in the east and covers an area of 72 square kilometres, which is just larger than the island of Guernsey in the English Channel.
It is a joint venture between E.ON, which developed the project, Canadian energy company Enbridge and a consortium of USS, Macquarie European Infrastructure Fund and Macquarie Capital.