Homes evacuated after sinkhole appears on A26 in Kent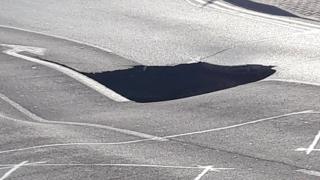 Ten homes have been evacuated after a large sinkhole opened up in a main road.
Witnesses described a police car overtaking vehicles and blocking the A26, in Kent, just before part of the road collapsed into a void.
Motorists said they heard a "crunching sound" before the 2m (6ft)-wide sinkhole appeared on Monday evening.
Work to repair the void, which could extend for up to 20m (65ft) underground, is likely to take weeks.
'Tarmac split'
Lauren Bourke was in a car with her fiance when the stretch of road between Maidstone and Tonbridge began to dip.
She said: "The bottom of a bus hit the dipping tarmac and made a slight crunching sound which is when we knew the road definitely wasn't safe.
"A police car overtook us and stopped in front of us.
"He got out and blocked the road off.
"It was sinking for about 45 minutes and then all of a sudden the tarmac split and it just went within five minutes. Then the left hand side started sinking too but didn't drop completely."
Toby Howe, senior highways manager at Kent County Council (KCC), said the damage outside the Taj Barming restaurant was "substantial".
"Our preliminary investigations suggest that this void extends either side of the road from kerb to kerb for a total distance of 20 metres," he said.
Mr Howe said teams would attempt to establish the cause of the collapse before working on repairs.
He added: "In addition, there are utility supplies of gas, electric and water in the vicinity so we will need them to be involved too."
'Like an earthquake'
Restaurant manager Mabs Salam said the sinkhole was about 6m (21ft) from their main entrance, but the business would open as planned on Tuesday night.
He said visitors could use the back entrance and staff who lived upstairs had decided to sleep at the back of the building.
"It's like something you would see after an earthquake," he said.
"We're used to seeing potholes, but this is massive."
He said no-one had been allowed close enough to see to the bottom of the hole.
The restaurant building had some cracks, he added, and the business had been advised to contact KCC's insurance department.
Mr Salam said officials had advised the restaurant not to let anyone stay in the building overnight and had said if the business stayed open it was its own risk.
He said he was waiting to hear from the restaurant owner and staff had made their own decision to stay upstairs.
You may also be interested in:
A spokeswoman for Maidstone council said 10 properties had been evacuated and it was not known how long for.
She said KCC as the highways authority would make a full assessment on Wednesday.
In the meantime, residents had been allowed day access to their homes but were not allowed sustained access or to stay overnight, she added.
"KCC are working on site now. We are hoping for it to be made safe for people to get back to their properties as quickly as possible," she added.
The road is closed between Hermitage Lane and Queens Road, with a diversion in place.
On repairs, Mr Howe said: "We really do not have an estimate as yet but it will be more like weeks than days."
A KCC spokesman said: "Ten properties have been evacuated and Maidstone council has accommodated four people.
"We can't tell how long for. They are investigating now.
"Potentially it could be weeks, but we are endeavouring to get them back into the properties as quickly as possible."
He said there had been logistical problems with regard to getting a digger on site without causing further collapse.
A smaller sinkhole also opened up in Tunbridge Wells on Monday. Bayham Road is closed between Frant Road and Forest Road.