'Hells Angels attack destroyed victim's life'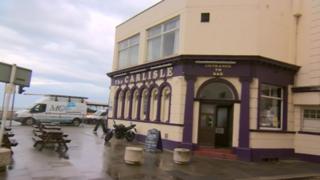 A man who was allegedly attacked by two Hells Angels bikers told police it had destroyed his life.
Christopher Harrison's eyeballs were ruptured in the attack outside The Carlisle pub on Hastings seafront in February 2016, the Old Bailey heard.
He said: "It's painful, frustrating. It's destroyed my life completely."
Matthew Barnes, 48, of Victoria Avenue, Hastings, and Oliver Wilkinson, 50, of Duke Road, St Leonards-on-Sea, deny grievous bodily harm with intent.
Father-of-two Mr Harrison, who was 53 at the time, told detectives in an interview recorded at his hospital bedside: "I can't read, I can't write, I can't see my kids grow up. It's unlikely I'll be able to drive again."
'Storm of ferocity'
Mr Harrison said he had been drinking at the pub on 20 February when he was approached by Mr Wilkinson, who he understood to be "prospecting" for new members of the Sussex branch of the Hells Angels.
He said when he spurned the invitation, saying he was too old, Mr Wilkinson fetched Mr Barnes, who was branch president.
Mr Harrison told police: "When he came out of the pub he was building up to a storm of ferocity."
He said he was head-butted by Mr Barnes and punched in the face by another man, whom he believed to be Mr Wilkinson.
The trial continues.