DFDS ferries cancelled between Newhaven and Dieppe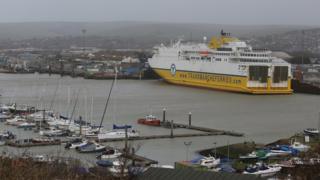 Ferries on a route between England and France have been cancelled due to a broken ramp.
Operator DFDS took the decision after a ferry was unable to dock in Newhaven, East Sussex and was forced to return to Dieppe in France on Sunday evening.
Sailings will not run before 12:30 BST on Tuesday and passengers have been advised to go to Dover and Calais.
Newhaven Port Authority, which is responsible for the ramp, has been contacted for comment.
The port authority initially said it expected the ramp would be fixed in time for the 18:30 service on Monday. The cause of the damage is not yet known.
One Twitter user Pierre Lewis tweeted earlier that the situation was "seriously bad" and "people were going nuts".
A DFDS spokeswoman said: "It is taking longer than imagined.
"Our staff are doing their utmost to get our customers to their destination as quickly as we possibly can with the information we are being provided."