Murder probe as two bodies found in Eastbourne house fire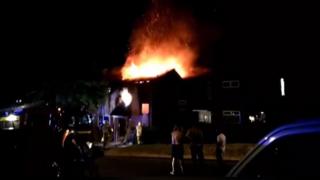 Two bodies believed to be a woman and her four-year-old son have been discovered in a house destroyed by fire in a suspected arson attack.
A 34-year-old woman and her child have been missing since the blaze broke out in Croxden Way, Eastbourne, at about 01:20 BST on Tuesday.
The house has been too unstable to enter but two bodies, yet to be indentified, have since been found in a first floor bedroom, police said.
A murder investigation is under way.
'Worst fears realised'
A 26-year-old man who was also in the property at the time of the fire was taken to hospital with burns and remains in an induced coma.
He was the partner of the missing woman but not the father of her child.
Det Ch Insp Mike Ashcroft, leading the investigation, said: "This is a dreadful incident and the worst fears have been realised. Our thoughts are with the victims, their families and the whole community at this time."
He added it will take "some time before forensics examinations are complete".
Sussex Police is appealing for information.