Eastbourne fire: Police urge relatives to forget family loyalties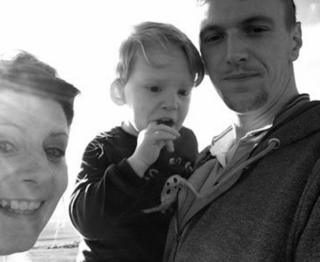 The officer leading the investigation into the murders of a woman and her son in a house fire has urged relatives of the killers to put aside loyalties.
Gina Ingles, 34, and her son, Milo, were found dead after a fire at their home in Croxden Way, Eastbourne.
Two men arrested on suspicion of murder and attempted murder have been released pending further inquiries.
Det Ch Insp Mike Ashcroft urged any person who knew who had committed the crimes to help bring them to justice.
He said: "Whoever is responsible will know what they have done, and I am convinced there are people who know who it is.
"They may be family or friends who may not want to come to the police out of loyalty to them. However, two people have died as a result of this arson attack, including a little boy.
"The sooner we identify who is responsible, the sooner we can bring them to justice."
Induced coma
Ms Ingles and four-year-old Milo Ingles-Bailey died in an arson attack at their home on 10 July.
A post-mortem examination found they died as a result of smoke inhalation.
Ms Ingles' partner, Toby Jarrett, 26, remains in an induced coma with burn injuries.
A 47-year-old man who was arrested on Sunday morning and a 23-year-old man, who was arrested on Monday, have both been released under investigation while police continue their inquiries.
The fire broke out at about 01:20 BST on 10 July but it was not until the following day that Ms Ingles and her son were found.
In a statement released last week, Ms Ingles' family described her and her son as "our shining lights that brought love to us all".