Bognor home damaged by glass ornament blaze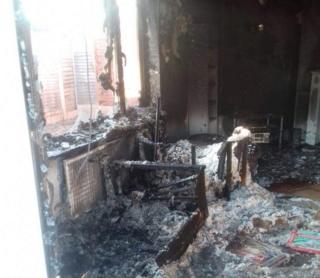 A home has been gutted by a fire started by sunlight shining through a glass ornament in a living room window.
The blaze caused extensive damage when it ripped through the bungalow in Bognor Regis, West Sussex.
Firefighters said the windowsill trinket had concentrated the sun's rays, producing a magnifying glass effect.
West Sussex Fire and Rescue Service warned homeowners to be aware of the dangers of glass on windowsills.
It was called house at 18:00 BST on Saturday after being alerted by an automatic fire alarm.
'Scariest situation'
The owner of the house, who did not wish to be named, said: "Within minutes the house was full of smoke with glass exploding."
She said her whole house was fire and smoke damaged.
The homeowner was in the garden when the fire alarm went off.
"It was the scariest situation that I have ever been in - the fire started and grew so quickly," she said.
"My whole house is fire and smoke damaged and at the present time, we are unable to live in the property," she added.
Pete Sadler, Bognor Fire Station's manager, said: "It is vital that residents understand the dangers of having glass and mirrored objects in the view of windows."