Brighton council to pay compensation over nuisance neighbour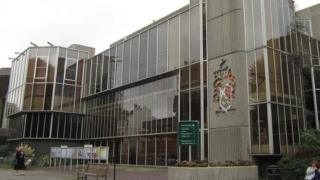 A council was wrong to place a mother and her autistic son in temporary accommodation below a nuisance neighbour, an ombudsman has found.
The neighbour swore frequently and had threatened to stab the mother and kill her son, the Local Government and Social Care Ombudsman heard.
It said Brighton and Hove City Council should have done more to find the mother and her son suitable housing.
The council apologised to the family and said procedures would be improved.
Michael King, the ombudsman, said: "This family were caused significant stress being placed in thoroughly unsuitable accommodation by the council, and at one point they were even split up because of the neighbour's poor behaviour.
"While I appreciate the strains councils are under to find the right accommodation, particularly in areas of high property prices, they still need to ensure the suitability of the accommodation they are offering."
His investigation found there had been a nine-year history of anti-social behaviour with the neighbour and three Anti-Social Behaviour Orders had been issued against her.
'Extremely sorry'
Councillor Anne Meadows, chair of Brighton and Hove City Council's Housing and New Homes Committee, said: "We fully accept the Ombudsman's findings and recommendations. We're extremely sorry for the distress caused in this case and have apologised to the family involved.
"We're taking action to ensure lessons are learnt from the mistakes made in this case and procedures are improved."
The council has been ordered to pay the mother £750 in recognition of the injustice caused to her and her son.
His severe autism meant he was particularly sensitive to noise which caused him acute stress and anxiety. They lived below the nuisance neighbour between July and September 2016, before being moved into more suitable accommodation.