Anger over 'rip off' Britney Spears tickets at Brighton Pride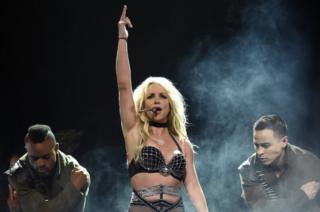 Brighton Pride organisers have slammed secondary ticket sites for "ripping off" Britney Spears fans by selling tickets which may not be valid.
Hundreds of people who bought tickets to the sold-out event on StubHub or Viagogo are likely to be denied entry.
Organisers said tickets must have been bought through Pride, which operates a "no resale, no refund" policy.
A spokesman for StubHub said it "strongly believes people have a right to transfer tickets".
Earlier, the firm had 92 tickets for sale and 290 already sold. Some are listed for £450, more than 10 times the cost of the most expensive tickets sold by organisers, which were £37.50.
Britney is bringing her Las Vegas show to Pride this weekend and tickets sold out in April - both online, and in local shops.
Paul Kemp, managing director of Brighton and Hove Pride, said: "We have to disrupt the ticket touts.
"Otherwise in the future our community event, where the tickets are meant to go to locals, will be bought up by ticket companies and sold on at extortionate sites.
"They're fraudulent, they've been giving out the wrong information, they're undermining the industry, and they're ripping off customers."
Hollie Clark, 32, bought two tickets from Viagogo in February for £240, and only recently discovered that her tickets may not be valid.
"I'm really gutted and upset. It's so frustrating, I've contacted Viagogo to sort this out, but they haven't got back to me," she added.
Mr Kemp said anyone arriving at the event with a genuine ticket with identification details which do not match their own will be allowed to buy a new ticket.
The organisers will also provide a letter which may help them to secure credit card refunds.
A spokesperson for StubHub said: "Even though only 0.7% of the total capacity of 44,000 tickets for this performance were sold on StubHub, we're really disappointed on behalf of fans that the promoter changed their terms and conditions (requiring photo ID) after all the tickets had sold out.
"And whilst sellers set the prices, we have alerted buyers to the promoter's new restrictions, and every customer order is covered by our FanProtect Guarantee, meaning StubHub will provide comparable or better replacement tickets or at least a full refund should there be any issues.
"The prices for the tickets mentioned are the ones listed, but as it is often the case, those are not necessarily the prices for which tickets sell. We believe that fans should have the right to transfer their tickets. They want flexibility and not more restrictions."
The BBC contacted Viagogo for comment.