Brighton Pride: Thousands turn out for colourful parade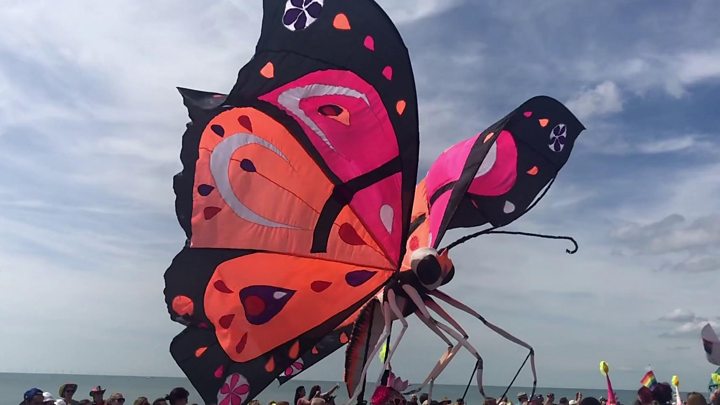 Thousands of people gathered in Brighton for the city's annual Pride celebrations.
Britney Spears headlined a festival in Preston Park that promised "a dazzling display of inclusivity".
The American pop superstar performed in front of a crowd of 40,000 - her first UK performance since 2011.
Other acts appearing at the ticketed festival include Ella Eyre, Pixie Lott, former Eternal singer Louise and Nile Rodgers with Chic.
A small group of protesters criticised sponsor British Airways for its co-operation over government-ordered deportations.
The firm said it was bound by law to deport people when asked to do so by the government.
The airline had a float in the parade featuring someone dressed in an air hostess outfit in tribute to Britney's Toxic music video. Their arrival was also met with cheers from the crowd.
During the event, Sussex Police warned of a "potentially dangerous" batch of "contaminated" drugs - called "Chupa Chups" or "Chompa Chumps" - that may be sold.
The pills, in a shape similar to the the logo of the children's lollipops, have been linked to a number of recent deaths, according to the city's drugs and alcohol service Pavilions.
Police urged revellers to act responsibly, follow safety advice and report any suspicious behaviour.
Ch Supt Neil Honnor said armed officers would be working in the city during the parade with "public safety the main priority".
"The weekend weather is due to be very hot and sunny so we would also like to remind people to stay hydrated and wear sun cream," he added.
The BA protest came after activist group Lesbians and Gays Support the Migrants wrote an open letter to the Guardian newspaper on Friday, to call for the airline to "stop being complicit" in working with the government on deportations
The open letter was signed by MPs and other public figures.
BA said it was never told about personal details of anyone it is asked to deport, including their sexuality, and was a proud supporter of Pride.
You may also like: