Missing Georgina Gharsallah's family 'feel let down by police'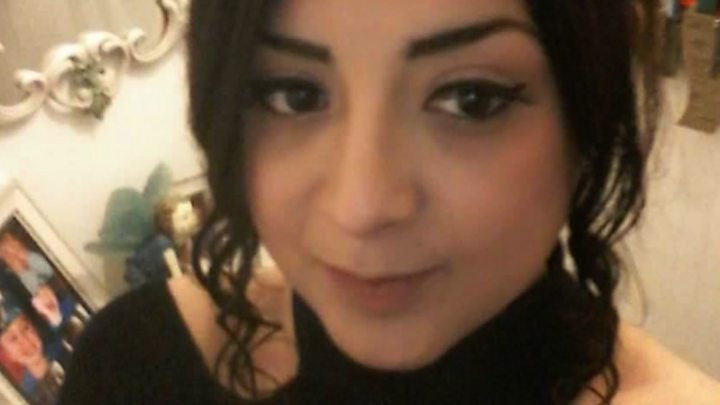 A mother whose daughter was last seen in March has said her family has been "let down" by police and needs answers.
Georgina Gharsallah, 30, was last seen in her home town of Worthing in West Sussex on the morning of 7 March.
Her mother Andrea Gharsallah said: "The worst thing about this whole situation is not knowing anything. There's just nothing."
Sussex Police said officers were "continually reviewing Georgina's case" and still appealing for information.
But Mrs Gharsallah said: "It's like grieving, but it doesn't stop. We feel a bit let down by the police."
Two men were arrested on suspicion of murder after Ms Gharsallah went missing but were later released with no further action.
Ms Gharsallah was reported missing to Sussex Police on 17 March and the major crime team took over the investigation on 26 March.
She was caught on CCTV in a phone shop, where she was seen with "a number of mobile phones", Sussex Police said.
"Georgina was, and still is, being treated as a high-risk missing person," a police spokeswoman said.
Ms Gharsallah is described as 5ft 2in (1.57m) tall, with shoulder-length dark hair, often worn in a top knot. She has a piercing above her left lip.
"Georgina has Arabian features and speaks Arabic among friends," the spokeswoman added.
Mrs Gharsallah described her daughter as "quite streetwise, but quite naive too", a thought echoed by her younger daughter Arij Gharsallah who said her sister was "very sociable but had social anxiety".
She said police had given the family "seven or eight hypotheses" surrounding the disappearance.
"They range from missing to murder, to being trafficked, to being held against her will, to suicide and not being found," she added.
"Each time we see police they may be working on one of those."
You may also be interested in:
Mrs Gharsallah added: "How can someone just disappear, how can no-one have seen her?
"Someone must have seen her coming out of the shop that day."
She said no money had been taken from her daughter's bank account since she was last seen.
Mrs Gharsallah said the family feared the case was "going to fade" as time went on.
Sussex Police said it was "continually reviewing" Ms Gharsallah's case and was still appealing for information.
"I just hope she's safe and she's not been hurt," Arij said.