Sussex Police in FOI breach over fans weapons claim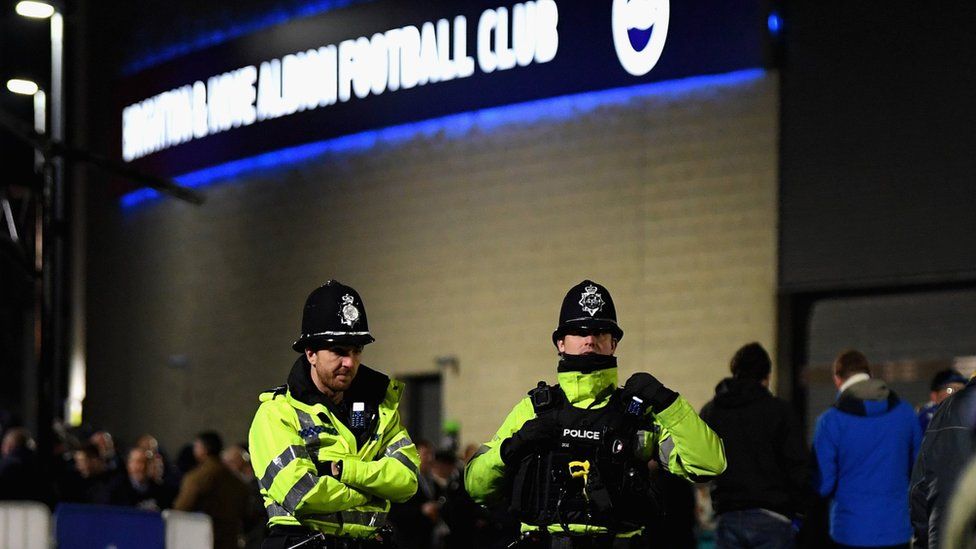 A police force breached the Freedom of Information Act by refusing to explain why it claimed football fans were armed with "knives and knuckle-dusters".
Six people were held and two stewards hurt when Crystal Palace and Brighton and Hove Albion met in November.
At the time, Sussex Police said some Palace fans were found with weapons. It later admitted the claim was false.
The force has now been served a decision notice by the information commissioner and said it would comply.
Palace fans had sent an FOI request asking officers to explain where the weapons claim had come from but the force had refused to explain the error on the grounds it was not in the "public interest".
The Information Commissioner's Office decision notice highlighted the "substantial delay" the force had taken in responding to the request, and found it had breached sections of the act.
During the Premier League match on 28 November at Brighton's Amex Stadium, flares were let off inside the ground and a number of people were arrested.
Ch Insp Simon Nelson said it was the worst example of disorder and violent behaviour he had experienced in 12 years as match commander, and later tweeted about the weapons.
Earlier this year Palace fans officially complained to Sussex Police, claiming they had been "treated like cattle".
Palace fan site Five Year Plan Fanzine said despite the apology the force never explained how the false allegation had come into the public domain.
In June the group complained to the Information Commissioners Office, which launched an investigation.
The commissioner now requires Sussex Police to respond to the FOI, or issue a valid refusal notice.
In a statement, Sussex Police said: "FOI requests in relation to policing of the match were received in December last year.
"Sussex Police responded to these and in doing so explained that some of the information sought had already been placed in the public domain by Sussex Police in the form of press releases.
"An internal review by the force under the act was then sought in relation to some information which we refused to supply under the act. We regret there has been delay in completing this review.
"We fully intend to comply with the ICO decision notice."
Related Internet Links
The BBC is not responsible for the content of external sites.