Alfie Harbord inquest: Levellers drummer's son 'stepped in front of bus'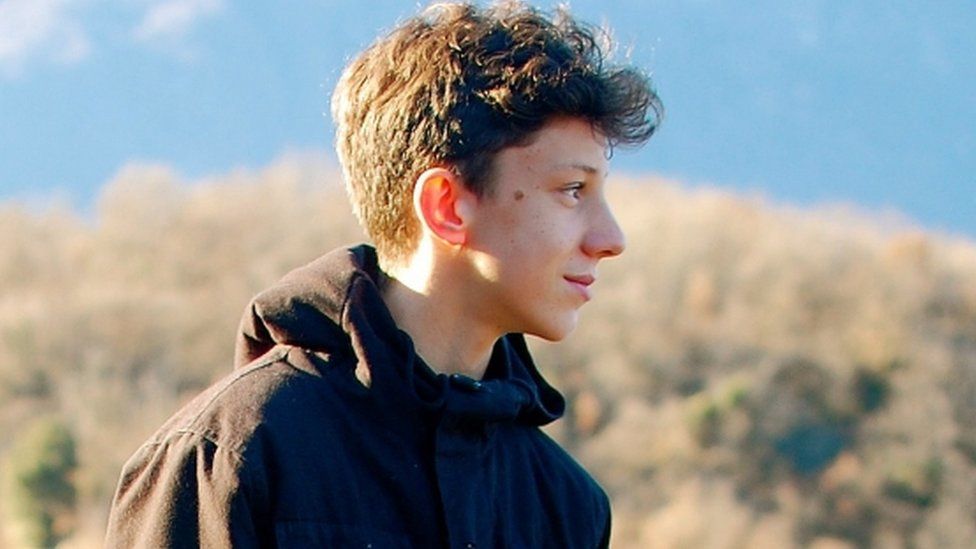 The son of Levellers drummer Charlie Heather may have been confused about the direction of traffic when he stepped out in front of a bus, his family has said.
Alfie Harbord 15, died from a head injury after the accident in Marine Parade, Brighton, on 24 February.
At an inquest a coroner recorded a verdict of accidental death.
Mr Heather said Alfie had recently been in Italy, where traffic approached from the left.
In a statement his family said: "We don't know why Alfie stepped into the road when he did, but it has occurred to us that [he] had been in Italy on a family holiday the week before and possibly he was anticipating the oncoming traffic coming from the left... rather than the right."
The inquest in Brighton heard that Alfie, described by his teachers as "a gentleman and a scholar", had been drinking with friends in the city before the accident, shortly after midnight.
Toxicology tests showed a "high" blood-alcohol level of 242mg per 100ml. The drink-drive limit is 80mg.
Alfie's friend, who was with him, gave a statement to the inquest, saying Alfie "broke free" at a crossing and said: "Come on. We can run back."
The teenager was struck by a bus on the westbound carriageway of the seafront road and died in the Royal Sussex County Hospital less than an hour later.
The hearing was told that accident investigators believed the time between Alfie stepping off the kerb and the point of impact was 1.82 seconds and there was nothing the driver could have done to avoid a collision.
The coroner, Veronica Hamilton-Deeley, recorded a verdict of accidental death and said alcohol was a contributory factor "which may well have affected Alfie's judgement".
Mr Heather, a musician in the folk-rock band, shook bus driver Nicholas Paul's hand and said: "I have no animosity or blame; I am sorry it happened to you and we hope you recover from this awful experience."
After the verdict, Mr Heather and Alfie's mother, Jill Harbord, issued a statement saying their son had not been permitted to take alcohol with him on the night out.
They described him as "a bright, intelligent and popular boy".
Related Internet Links
The BBC is not responsible for the content of external sites.