'Total chaos' as Sussex care home closed down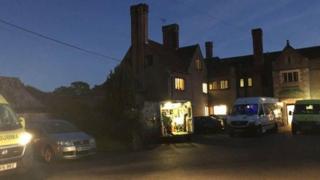 Patients at a care home were told to "leave immediately" after a health watchdog took urgent enforcement action, the BBC has learned.
The Care Quality Commission (CQC) said it had made the decision to shut Horncastle House, near East Grinstead, after three separate inspections.
But relatives said they were not given a reason for the sudden closure.
A spokesman for the home said it "does not accept the allegations that led to the closure".
All residents were found replacement accommodation, West Sussex County Council said.
'Loved ones crying'
One relative described the situation as "total chaos" and "an unbelievable situation".
Tim Leader, whose father-in-law is cared for at the private home, said: "There are loved ones there now crying not knowing what to do."
"How can the Care Quality Commission make this decision without first ensuring adequate provision has been made for the current residents?
"It's just so sad that vulnerable people like this are being treated so badly."
He added: "You'd expect a care home to be just that, a caring environment for those that need it. It seems that in this case at least, we are a long way from achieving that goal."
The spokesman for Horncastle House, which can take up to 43 patients, confirmed it was being closed by the CQC.
He said: "We do not accept the allegations that have led to the closure and believe that the additional measures our senior management team swiftly put in place would have enabled us to continue to provide high quality care to our residents.
"We have been working constructively with the local authority and CCG throughout the day and have secured alternative accommodation for all our residents, ensuring they continue to receive the support they deserve."
In a statement Debbie Ivanova, CQC deputy chief inspector of adult social care, said the home had been inspected in March and August of this year and again on 13 September.
"Following this recent inspection, CQC has taken urgent enforcement action to protect people living in the service and to ensure significant and immediate improvements take place," she added.
A West Sussex County Council spokesperson said it was working with families, CQC and other agencies to find alternative accommodation for residents.
The CQC said a full report would be published in due course.