Russell Bishop: Murder trial jury retraces girls' steps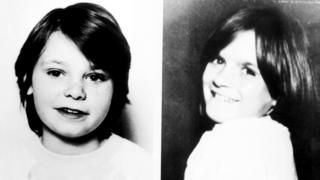 Jurors in the trial of a man accused of murdering two nine-year-old girls are viewing the site where their bodies were found in woodland.
Karen Hadaway and Nicola Fellows went missing while playing together after school on 9 October 1986.
Their bodies were found in a wooded den on the South Downs the next day.
Russell Bishop, 52, is facing a second trial over the killings after he was acquitted in 1987. He denies two counts of murder.
Jurors have travelled 50 miles to the south coast in a coach with a police escort.
They were being accompanied by Old Bailey trial judge Mr Justice Sweeney, court staff and lawyers as they retrace the girls' last footsteps.
The judge told them Bishop, a former roofer, had chosen not to attend the site visit.
"That's a sensible choice by him and you will not hold it against him in any way," he said.
Jurors walked past a memorial to the girls - a hawthorn tree decorated with flowers, beads and crystals.
Large pink balloons in the shape of 32 were placed there to mark the most recent anniversary.
There were also two teddy bears placed side-by-side next to a plaque dedicated to the victims, who would now be in their 40s.
The jurors did not stop to look at the memorial, having been told by the judge it was not relevant to their considerations and there was no "disrespect".
Prosecutor Brian Altman QC pointed out a landmark called Jacobs Ladder - steps near the den where the girls were found.
At a pavilion in the park, he pointed out the bank leading to the woods where the bodies were found.
He said: "This is the pavilion which was here, as you saw, in 1986.
"Behind the pavilion is the grass bank, now overgrown, and the steep slope bank leading into the woods.
"And it was above this spot that the girls were found dead."
In court, the den was described as a hollowed-out area within the undergrowth surrounded by branches forming a roof.
Jurors were told a police officer had to crawl through bracken to reach the girls.
Mr Altman showed jurors the location of one of the last sightings of the girls, a fish and chip shop where they were also spotted, the road where they lived, and Bishop's route home on the night they died.
The trial has heard that Bishop sexually assaulted and strangled Karen and Nicola in 1986.
The court has also heard he was convicted of the attempted murder, kidnap and indecent assault of a seven-year-old girl in 1990, three years after his earlier acquittal.
The trial is due to continue at the Old Bailey on Friday.