DNA 'links Russell Bishop to Brighton girls' murders'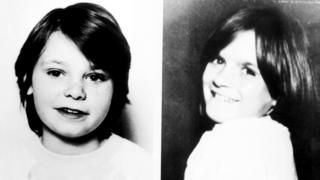 A one-in-a-billion DNA match has linked a man with the murder of two nine-year-old girls in Brighton 32 years ago, the Old Bailey has been told.
Jurors also heard a sweatshirt allegedly discarded by Russell Bishop as he walked home had come into contact with the girls' clothing.
Bishop, of Brighton, who denies both murders, is facing a second trial over the deaths after an acquittal in 1987.
Nicola Fellows and Karen Hadaway were found dead in woodland in 1986.
They had gone missing from their Brighton homes on 9 October and their bodies were found in the den in Wild Park on the South Downs the next day.
Jurors have heard they were strangled and sexually assaulted.
Prosecutor Brian Altman QC told the court there was a "wealth of evidence to show this man, Russell Bishop, to the exclusion of anyone else in the world, is guilty of the murder of those two little girls".
He said: "There is powerful evidence of a physical connection between him and those girls; the person who wore the discarded Pinto sweatshirt was the killer and it was the defendant who wore it."
Mr Altman said that evidence included the transfer of fibres, paint comparisons and DNA.
"We say you can conclude that the Pinto sweatshirt obviously belonged to him, that it came into recent contact with the girls' clothing and that recent contact can only have been at the time of their murder," he said.
Jurors heard more evidence came from a previously unexamined taping from Karen's left forearm, which provided a one-in-a-billion DNA match to Bishop.
Circumstantial evidence also pointed the "finger of guilt firmly in this man's direction", Mr Altman said.
He said Bishop was seen in Wild Park at the time and later described details of the murder scene that could only have come from the killer.
The court has been told three years after Bishop's acquittal over Nicola and Karen's deaths, he was convicted of the attempted murder, kidnap and indecent assault of another seven-year-old child.
Mr Altman has highlighted similarities between the murders and that attack.
Concluding his opening, he said: "It is, say the prosecution, the overwhelmingly compelling and powerful nature of all the evidence in this case that can make you sure of this defendant's guilt."
The trial was adjourned.