Russell Bishop trial: Girl's father accused of killings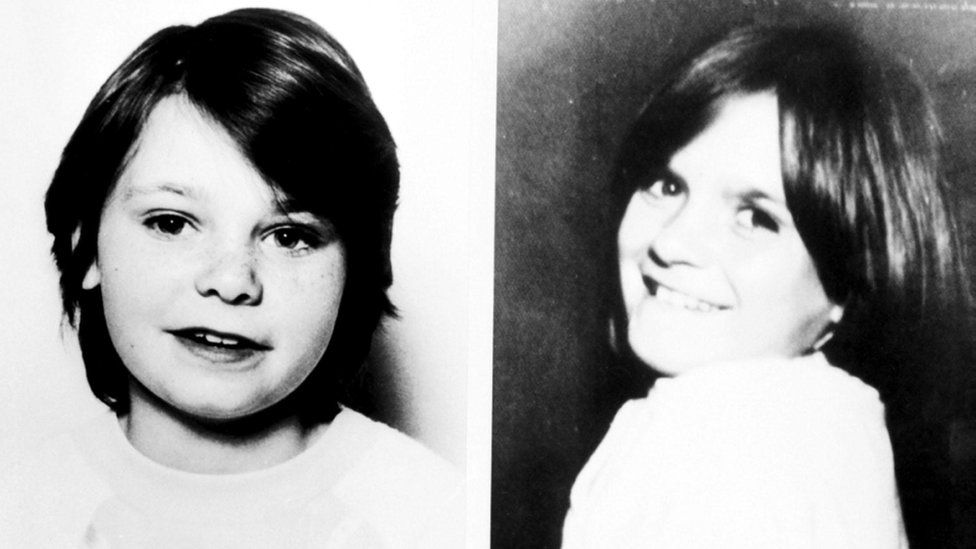 Lawyers for a man accused of murdering two nine-year-olds have told jurors one of the girl's fathers may be to blame.
Russell Bishop, 52, is on trial for a second time charged with killing Karen Hadaway and Nicola Fellows on the outskirts of Brighton in 1986.
At the Old Bailey, Joel Bennathan QC said Nicola's dad Barrie had a "guilty secret", and Mr Bishop was innocent.
Jurors also heard Karen Hadaway's mother had raised concerns about Mr Fellows' behaviour in 1989.
The girls were found sexually abused and strangled on the South Downs.
During his opening speech at the Old Bailey, defence lawyer Mr Bennathan said police had spent "32 years building a case against the wrong man".
"Only one person is on trial here sitting in the dock - Russell Bishop," he said.
"But the law allows a defendant like him to point out facts, ask questions, to the jury that might suggest the possibility that another person exists who may have carried out these awful attacks.
"We will ask questions of witnesses to show that when the girls went missing there was someone very close to them who has no alibi.
"That someone has a guilty secret - that he has been complicit in the sexual abuse of Nicola Fellows, which shows an interest in paedophilic sex.
"In the end it might mean he could not let Nicola Fellows tell the world what has been happening. That person is her father, Barrie Fellows."
Nicola and Karen were found dead in a wooded den near a landmark called Jacobs Ladder a day after they went missing while playing in Wild Park, near Brighton.
Bishop joined a search involving police and volunteers, and asked Karen's mother for an item of her daughter's clothing for his dog to pick up a scent, the court heard.
Giving evidence, Karen's mother Michelle Hadaway said she knew the girls had been found when police swarmed the park and a police helicopter went up to search.
Under cross-examination, she was also asked about concerns she had raised in 1989 about Nicola's father Barrie Fellows.
She had written a letter to her local councillor and Bishop's uncle outlining her fears about his "strange and unnatural behaviour".
He allegedly told her it was "lucky Karen had not been beaten before she died", which she found strange as it came before she had been told what happened.
Also giving evidence, Nicola's mother Susan Fellows - now Eisman - told jurors her daughter "was dotty over her father but was also wary of him".
She said Nicola "knew what he said went", and if she was naughty he would slap her.
In a recent statement, she described hearing of sexual allegations about her daughter from Bishop's girlfriend but said she did not dare speak to Mr Fellows about it.
She was also asked about a past incident involving her grandmother, who Mr Fellows had struck on the nose after she said "something about not liking [him]". No charges were pressed at the time.
Three years after his acquittal, Bishop was convicted of the kidnap, indecent assault and attempted murder of a seven-year-old girl at Devil's Dyke, also on the South Downs.
Bishop, formerly from Brighton, East Sussex, has denied two charges of murder.
Related Internet Links
The BBC is not responsible for the content of external sites.