Russell Bishop trial: Girl's bodies 'seemed thrown together'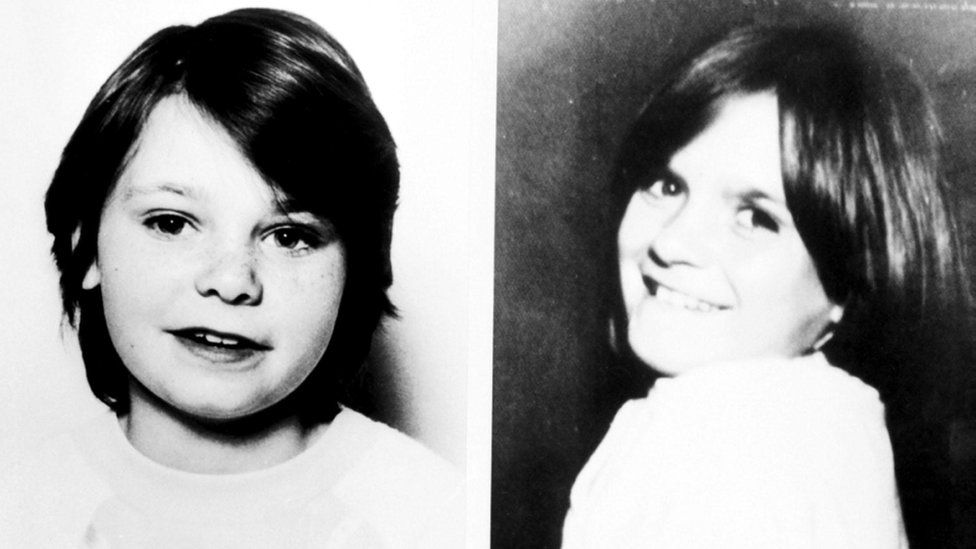 The bodies of two nine-year-old girls seemed to have been "thrown or tossed" together when they were found 32 years ago, the Old Bailey has heard.
Retired Supt David Tomlinson told jurors how Nicola Fellows and Karen Hadaway were found dead on the outskirts of Brighton in 1986.
Russell Bishop, 52, formerly of Brighton, denies their murders. He is facing a second trial over the deaths.
Mr Tomlinson said the bodies were "not in a comfortable position".
The former superintendent told the court he was in charge of the operation to find the girls after they went missing on 9 October and was told they had been found in woodland at about 16:20 the next day.
One of two 18-year-old men had made the discovery and they had been joined at the scene by Mr Bishop and PC Paul Smith, jurors have been told.
Mr Tomlinson said after PC Smith pointed to a clearing, he went to look.
"I walked along the path," he said. "I was conscious that I wanted to keep the disturbance of the scene to the minimum.
"There was still an amount of undergrowth. With the position of the bodies it was difficult for me to see what had happened.
"I was able to see the two bodies but they were not in a comfortable position. I got the impression one body had been almost thrown or tossed against the other."
He said one of the teenagers looked pale and about to pass out, but Bishop "did not seem to be affected".
Mr Tomlinson said he then ordered the whole scene to be sealed off.
The court heard a blue sweatshirt, allegedly worn by Bishop, was found beside a path behind Moulsecoomb railway station.
Jurors were told it smelt strongly of sweat and had red stains on it and was handed into police at Wild Park on 10 October.
The court was told it was put in a brown paper bag and taken to Brighton police station before being transferred to a clear, sealed bag.
Retired Ch Supt Christopher Bentham told jurors he examined it on 31 October wearing a lab coat and disposable gloves.
He explained the tests that would be carried out and said: "They would be looking for blood. They would also be looking for fibres, stuff that had been left on a particular object from a particular contact in a particular context.
"The main focus was to preserve whatever item it was for examination for the relevant scientists."
Jurors heard tapings from the girls' clothes and bodies were taken as a pathologist carried out post-mortem examinations and sealed exhibits were sent for forensic tests.