Lewes bonfire: Zulu group quits over 'blacked-up' child row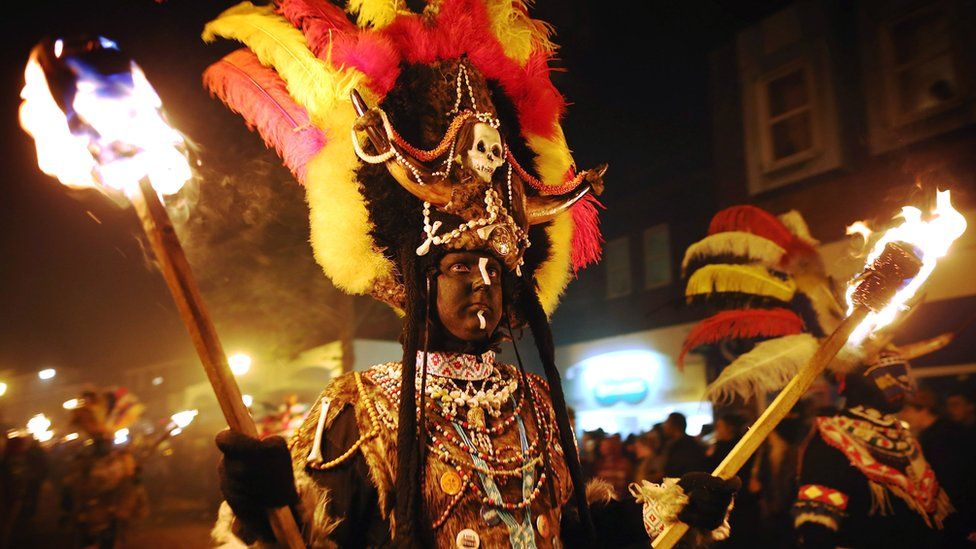 A Zulu dance troupe has pulled out of one of the UK's largest bonfire celebrations in protest after a child "blacked-up" at a pre-bonfire event.
A young boy had blacked-up to accompany his mother, a society member, to a pre-bonfire event in the East Sussex town, The Guardian has reported.
The society's Mick Smyes said it was "a significant error of judgement".
Tens of thousands of people are expected to join celebrations on Monday in Lewes, where more than 30 different processions make their way through the town, with each bonfire society holding its own a bonfire, followed by a firework display.
But a spokesman for Zulu Tradition confirmed the group would not be taking part this year.
Thanda Gumede, the leader of the dance troupe, said: "My concerns started when I saw a picture of a boy in black face again.
"I contacted [the bonfire society] to see if they were going to honour our agreement from last year when we agreed there would be no black faces, no skull and bones etc.
"While I appreciate some of the things will take time to do - some people said last year the skulls were embedded in their costumes, so I made some concessions, but it's been a year."
The event has been previously plagued with controversy over Zulu and Sioux costumes and painted faces.
Last year, Zulu Tradition threatened to pull out, saying costumes worn by one of the participating groups were "incredibly offensive".
Lewes Borough Bonfire Society agreed to tone down the costumes after the comments from Mr Gumede.
The society apologised and agreed to end its tradition of using black facepaint, although the practice has been backed by some locals who says it dates back many years.
Referring to this year's controversy, Mr Smyes said: "We shot ourselves in the foot this time.
"We had an incident where a young child had a full black face, for which we have made a full and wholesome apology.
"It's not our policy any more - black faces are banned."
Related Internet Links
The BBC is not responsible for the content of external sites.