Former G4S Brook House security guard not to be prosecuted
By Danny Shaw
Home affairs correspondent, BBC News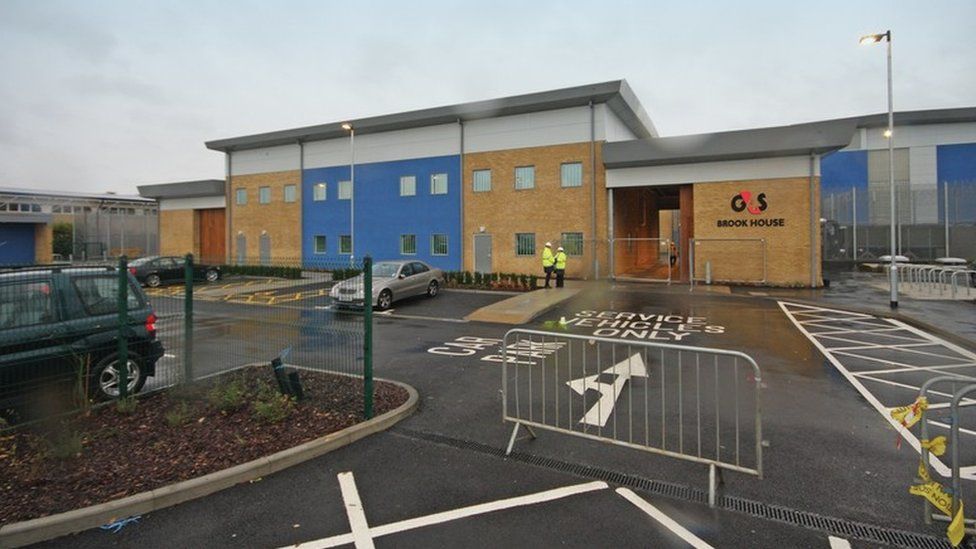 A former G4S security guard who allegedly choked a man on suicide watch at an immigration removal centre will not face prosecution.
The incident, at Brook House, near Gatwick Airport, was filmed by an undercover reporter for BBC Panorama.
The Crown Prosecution Service (CPS) said there wasn't enough evidence to charge the officer.
The BBC journalist, Callum Tulley, who filmed what happened to the 20-year-old detainee, said at the time: "This officer comes in and just chokes him basically. He just exerts all his pressure on from his hands and arms on to this guy's neck, and you see his eyes roll back. You see his eyes roll to the back of his head."
By the time the Panorama programme was broadcast in September 2017 the officer was working at the Home Office. He was suspended and later dismissed.
G4S said 10 other members of staff who were initially suspended after the programme were also later sacked, though one of them left for unrelated reasons.
A CPS spokesman said: "We received a file from Sussex Police in relation to a single allegation of assault.
"We have considered the file and concluded there is insufficient evidence for a realistic prospect of conviction."
Sussex Police said its inquiries had focussed on any "criminal offences" that were uncovered by the programme.
"One allegation of assault was subject of a police report to the CPS, who have informed us that the evidence is insufficient to justify prosecution," a spokesman said.
"The other allegations were closed by police with no action being taken.
"Some of the cases related to allegations of assault by detention officers on detainees, and some related to allegations of assault by detainees on other detainees."
In a statement, Panorama said it was thanks to the programme that the allegations were exposed.
"As a direct result there have been Parliamentary select committee hearings and two independent enquiries announced - one funded by G4S and the other by the Prisons and Probation Ombudsman," it said.
"We stand by the programme and our journalism."
Related Internet Links
The BBC is not responsible for the content of external sites.