Cancer survivor dances with Nutcracker Royal Ballet stars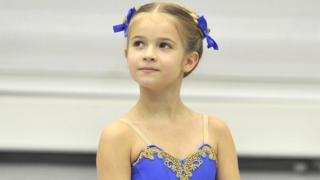 A cancer survivor has achieved her dream of dancing with stars from The Royal Ballet.
Charlie Tait, 11, was diagnosed with kidney cancer as a baby and had a kidney removed at the age of three.
She took up ballet to build up her strength after chemotherapy and became an aspiring ballerina.
To launch Cancer Research UK's Kids & Teens Star Awards she has learned a dance sequence with the Prince and the Sugar Plum Fairy from The Nutcracker.
Charlie, from Sevenoaks, Kent, who is in her third year as a junior associate at the Royal Ballet School, practised a shoulder lift with Benjamin Ella, who performs the role of the Prince.
"Watching the ballerinas was really fun. To be in The Nutcracker would be amazing," she said.
"For any other kids going through cancer, I just want them to follow their dreams and when they're feeling down to hold on to those dreams."
Royal Ballet first soloist Yuhui Choe, who dances as the Sugar Plum Fairy, said: "Charlie is super talented. She's so gifted and to think what she's been through already. She has so much potential."
The Star awards celebrate the courage of children diagnosed with cancer and Charlie was a previous winner.
Her mother Merran Tait said: "Charlie was what she called 'nervous-cited' about meeting the dancers, but seeing her dancing with the ballerinas was just wonderful.
"I remember the day Charlie was diagnosed as if it were yesterday. I'm a doctor myself and when I noticed she had a lump on her abdomen, I just knew it was cancer.
"Charlie never cried, even when she was having needles put in her. She has always been strong, and she always seems to be able to draw on that strength when she needs it - like when she dances on stage.
"We really treasure moments like these."