Russell Bishop trial: Ex-girlfriend 'besotted' by accused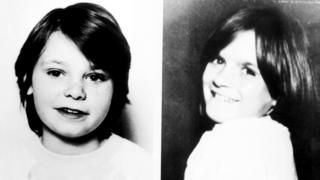 The former girlfriend of a man who denies murdering two girls in 1986 has told a court she was "besotted" by him.
Marion Stevenson was 16 when Nicola Fellows and Karen Hadaway were sexually assaulted and strangled near Brighton.
She told the Old Bailey Russell Bishop was her first love and could "do no wrong in my eyes".
Convicted paedophile Bishop, 52, formerly of Brighton, is facing a second trial over the murders after he was first acquitted in 1987.
Ms Stevenson has told jurors she saw Nicola's father Barrie Fellows watch a video of his daughter having sex with the family's lodger Dougie Judd.
Under cross-examination, she denied a suggestion that none of it ever happened.
The court heard the claims about the video emerged when Ms Stevenson gave an interview to the News of the World, days before Bishop was acquitted.
Jurors heard the interview led to two stories - one claiming Nicola had been sexually abused on film and another alleging police asked her to extract a confession from Bishop while his home was bugged.
Prosecutor Brian Altman QC said Ms Stevenson gave nine statements to the police in 1986 and asked her: "Can you try to explain why there is not one mention at all about this video allegation?"
Ms Stevenson, now 48, replied: "I was young. I was scared. Two little girls I knew were murdered. My world was not like that."
Mr Altman said: "If you saw what you told the jury you saw you must have thought to yourself that Nicky was in the greatest of danger.
"She was living in a house with a man that you saw was raping her while her own father was watching it on video."
Ms Stevenson replied: "I was scared. I was young myself."
'Smoking pot'
The prosecutor said: "You could have reported what you told the jury you saw at any day, or any of the weeks or any of the months leading up to the girls' murders."
She replied: "I could have done and maybe if I had they might be alive."
Mr Altman suggested there was no bug in Bishop's home, but Ms Stevenson said: "It was. You are trying to make me out to be a liar."
Jurors also heard Ms Stevenson gave "completely different" accounts of the video of Nicola to police in 1988 and 2007.
She said: "I have explained that in 1988 I was heavily smoking pot and so my memory was not as clear as it was in 2007 when I was not smoking it.
"As the years went on, things have got a lot clearer to me."
Ms Stevenson said Bishop's "domineering" mother Sylvia suggested she speak to the News of the World.
She said: "They all used me. Everyone used me. Russell's family, the police, everyone."
After jurors heard the News of the World paid Ms Stevenson £1,500 plus £1,500 to charity, Mr Altman asked her: "Did you feel around the time you went to the papers you were being put under pressure by the Bishop family, pressure to establish his innocence."
Ms Stevenson agreed, and sobbed when the prosecution suggested she made up the allegations about Nicola.
Lashing out, she said: "I lied, OK? I didn't lie. I will tell you I lied because that's what you want."
The trial continues.