Gatwick drones: Military stood down after airport chaos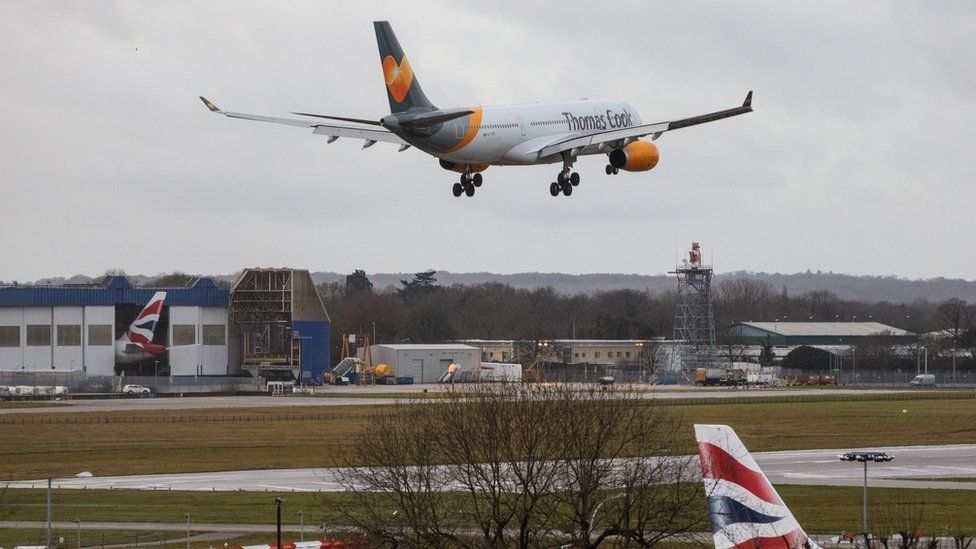 "Military capability" deployed to counter illegal drone flights at Gatwick Airport has been withdrawn, the Ministry of Defence said.
The RAF was deployed as hundreds of flights were cancelled on 20 December following repeated drone sightings.
Gatwick said it had spent £5m to prevent future attacks, but would not comment on the nature of the system.
More than 140,000 passengers were affected by about 1,000 cancellations and delays during the 36 hours of chaos.
Police said at the time that attempts to catch whoever was controlling the drones were "painstaking" because "each time we believe we get close to the operator, the drone disappears; when we look to reopen the airfield, the drone reappears".
The drones were first spotted on the evening of 19 December and the knock-on effects from so many cancelled flights meant delays continued into the weekend.
It was previously reported that the Israeli-developed Drone Dome system, which can jam communications between the drone and its operator, was deployed.
However, it is understood the MoD is still waiting to receive the equipment and an alternative system has been used at Gatwick.
A £50,000 reward for information leading to a conviction in the case has been offered by Crimestoppers, which said it had "passed on close to 30 pieces of information to law enforcement within the first 24 hours".
The force has now said it was investigating "relevant sightings" from 115 witnesses - 93 of whom it described as "credible" - including airport staff, police officers and a pilot.
Chief Constable Giles York said some of the drones spotted may have belonged to the police and caused confusion.
But he said he was "absolutely certain" a drone had been flying near the runway during the disruption.
The MoD said: "The military capability has now been withdrawn from Gatwick. The armed forces stand ever-ready to assist should a request for support be received."
It had previously been reported the Army assisted at Gatwick, but the MoD confirmed it had deployed personnel from the Royal Air Force Regiment.
Related Internet Links
The BBC is not responsible for the content of external sites.