Sex-on-duty Sussex Police officers guilty of misconduct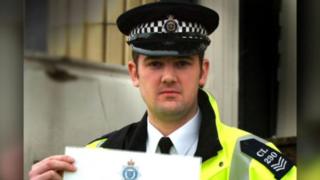 A former chief inspector and his police colleague who met for sex while on duty have been found guilty of gross misconduct by a disciplinary panel.
Robert Leet, formerly of Sussex Police, had a sexual relationship with Sgt Sarah Porter between August 2015 and January 2017, the hearing found.
Mr Leet, a married father of four, resigned in March. Ms Porter has been sacked with immediate effect.
The pair exchanged up to 700 messages, some of a "graphic sexual nature".
Mr Leet, who did not attend the hearing in Lewes, East Sussex, was told if he had still been a serving officer he would also have been dismissed without notice. He will be barred from rejoining the police.
Ms Porter, who had been in the police 18 years and was previously married to another officer, admitted kissing Mr Leet, but claimed her actions did not amount to sexual activity.
However, the panel found the allegation had been proved.
Its chairwoman, Victoria Goodfellow, said the public would be appalled to learn two officers would be planning and continuing this relationship when they should be serving them.
She added Ms Porters' actions were "very likely to have caused harm to the reputation of Sussex Police and the policing profession".
Mr Leet, who served Sussex Police for 22 years, was also found to have taken advantage of a "potentially vulnerable" victim of domestic abuse.
He conducted a sexual relationship with her between November 2014 and January 2016 after they met at a domestic abuse action group he chaired as a district commander.
Ms Goodfellow said: "He would have known she was a survivor of domestic abuse. His was a gross abuse of his position with a vulnerable victim."
Ms Porter was also found to have failed to attend a fatal crash on July 3 2017 while she could not be contacted while on duty for 10 minutes.