Anthony Knott: Family 'devastated' after body found in Newhaven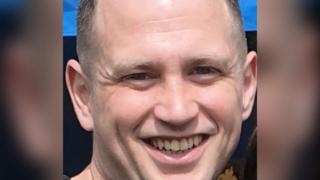 The family of a man who went missing during a work night out have said they are "utterly devastated and completely heartbroken" after a body was found.
Land and water searches with boats and drones took place to find London firefighter Anthony Knott, 33, who was last seen in Lewes on 20 December.
Sussex Police said a member of the public alerted it on Friday that a body had been found in Newhaven harbour.
Mr Knott's family thanked everyone who had helped in the search for him.
In a statement on Facebook, they said: "Anthony's story has reached out and touched the hearts of thousands of people.
"We would like to thank everyone for your incredible support, shares, posters, volunteers and donations.
"The people of Lewes, we will be forever grateful for your support and understanding during our searches.
"These three weeks have been so very hard for us all."
Det Insp Mark Rosser said officers believed the body to be that of Mr Knott.
He thanked volunteers who had turned out to help with the search.
"Our thoughts are with the family and friends of Anthony at this difficult time," Det Insp Rosser said.
Family, friends and members of the public had helped to search different locations across Lewes when Mr Knott failed to return home.
Sussex Police and London Fire Brigade joined forces to search Pells Pool in Lewes and the Pellbrook Cut waterway.
Emergency teams also carried out searches of the nearby River Ouse.
At the scene
By Piers Hopkirk, BBC News
The body was discovered by a member of the public in the River Ouse at Denton Island.
This is the final stretch of the Ouse before it reaches the sea at Newhaven, running through the town's industrial quarter just short of the port and ferry terminal and crossed by the A259 coast road bridge.
It's about six miles as the crow flies downstream from Lewes, where Anthony Knott went missing on 20 December.
At this stage, it is not known how and where he entered the water.
Mr Knott, of Orpington, south-east London, had left his friends at the The Lamb pub in Fisher Street, for unknown reasons, during his night out with colleagues.
He had been due to return home in the early hours the following day.
After he disappeared, his partner Lucy Otto wrote on Facebook that he had been in a happy mood, had loved his job and loved his family and had simply been on a Christmas night out.
Mr Knott played for Orpington Athletic FC and the club has tweeted that it is "incredibly saddened".
The club said Mr Knott was one of a few remaining players who had been part of the team when it was created more than five years ago, adding: "Anthony will be remembered for his tough tackling, his loud voice and his passion for the game."
On Twitter, London Fire Brigade Commissioner Andy Roe wrote: "I'm saddened to hear the news about firefighter Anthony Knott. All our thoughts remain with his family, friends and colleagues."
The chairman of the National Fire Chiefs Council, Roy Wilsher, said: "Anthony was part of our fire family and his loss will be felt across the entire UK fire service.
"He was a valued member of London Fire Brigade and this devastating news will impact on those he worked with during his career."