Southern Railway: Dumped bikes donated to charity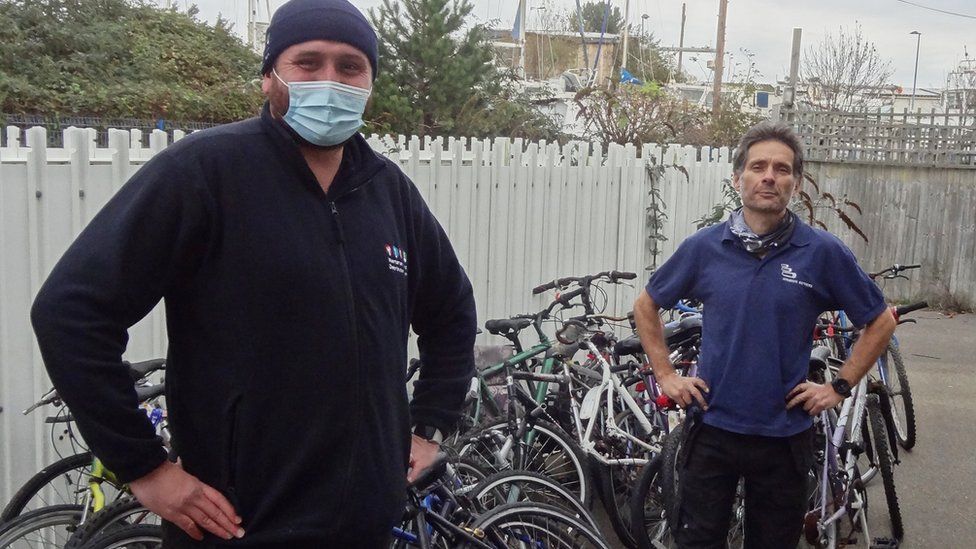 Four charities which help vulnerable people are to benefit from Southern Railway's bicycle recycling programme.
Every month dozens of bikes are dumped and left at train stations.
Southern used to sell them at auction, but now donates them to organisations which make them roadworthy, and find new homes for them.
Last year 103 refurbished bikes were donated to NHS workers, this year four new charities in the South East will receive about 90 bikes each.
The Sussex Community Development Association (SCDA) in Newhaven has already received 25 bikes.
The SCDA teaches bike repair skills to unemployed people and gives them work experience. Those who take part also go away with a bike of their own.
Paul Horta-Hopkins, bike technician at the charity, said: "It's not necessarily about training these people to become bike mechanics, but about being reliable and able to take instruction - skills to help them get back into work."
Chichester-based Stonepillow is another charity set to benefit. It will refurbish the bikes and sell them to help fund its work supporting homeless and vulnerable people.
Hove-based YMCA DownsLink works to prevent youth homelessness and its residents will learn to restore the bikes for their own use.
Cycling UK's Brixton workshop will use the bikes to provide healthy transport to people on low incomes.
Bikes are usually left at the station to be picked up by their owners for two weeks. Cycles not claimed are removed to a distribution centre in Horsham where they are kept for a further six weeks in case their owners come forward.
Southern also contacts the British Transport Police to confirm they have not been stolen.
Angie Doll, managing director for Southern and Gatwick Express, said: "It's fantastic to be working with all our partners, not only to promote healthy, green transport by extending the life of previously unwanted bikes, but to support these charities who are providing truly life-changing support for the most vulnerable and marginalised people in our communities."
Related Internet Links
The BBC is not responsible for the content of external sites.