Covid: Brighton vaccination team helps homeless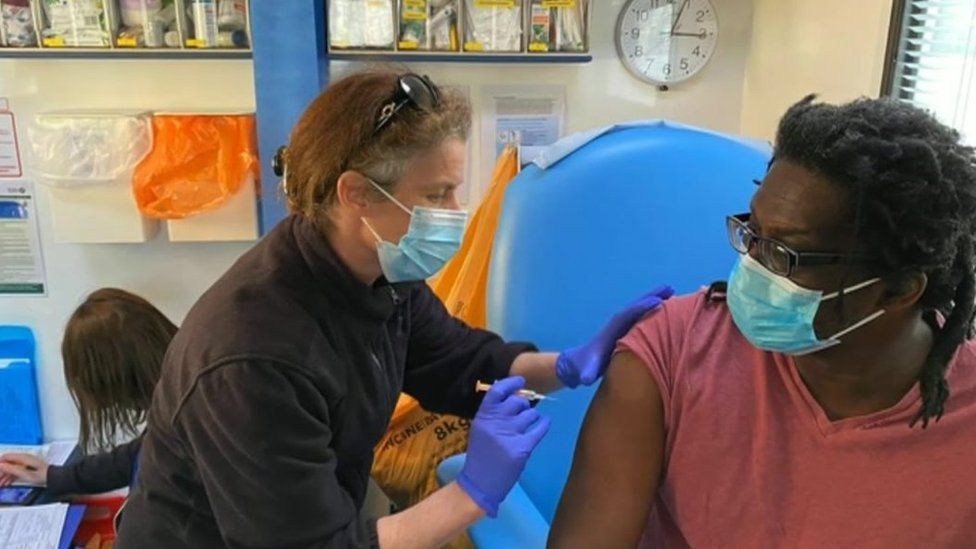 Nearly 200 homeless people in Brighton have had coronavirus vaccinations in the past fortnight as part of a drive to protect vulnerable communities.
The work has been carried out by Arch Healthcare, a group which helps homeless people in the city.
The company is aiming to vaccinate 1,000 people over eight weeks.
Chief executive officer Gary Bishop many people who were eligible could not attend the central vaccination sites because of health needs.
"It is vital we all work together to take the vaccines to clinically vulnerable people who might otherwise find it difficult to access the bigger vaccination sites," he said.
Lead nurse Hannah Bishop said: "We know people experiencing homelessness have high levels of underlying health conditions, long-term conditions and mental health conditions which make it really difficult for people to access the mass vaccination sites.
"We really believe it's really important for everybody to have access to this vaccine."
The team, operating from a mobile vaccination unit which is visiting key locations in the city, is working with St John Ambulance, Sussex Community NHS Foundation Trust and homeless charity Justlife.
Related Internet Links
The BBC is not responsible for the content of external sites.