Eastbourne woman's seizure disorder means 'zero quality of life'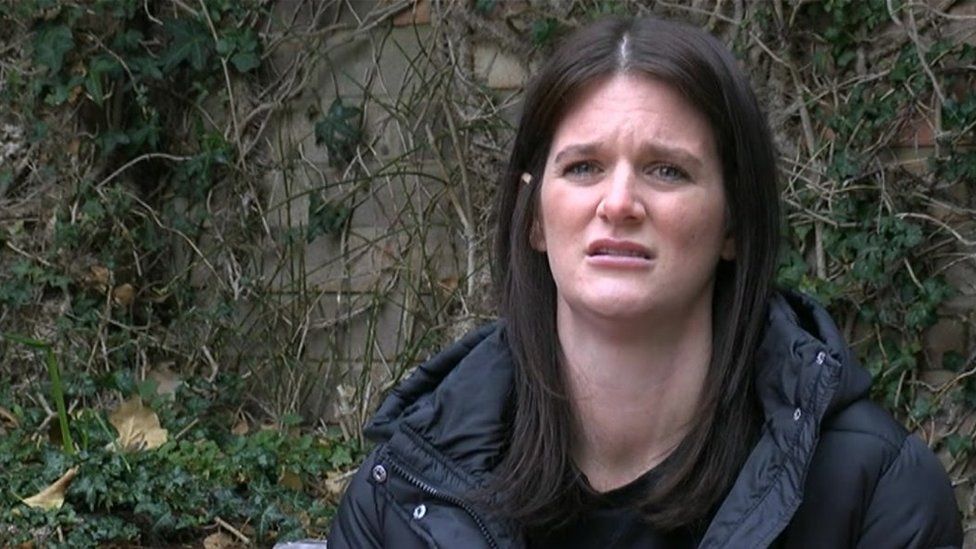 A mother-of-three has gone from living an active life to having up to 20 seizures a day and struggling to walk or talk.
Zoe Grimes, 31, from Eastbourne, East Sussex, was fit and healthy last summer and working full-time as a hairdresser.
She has been diagnosed with non-epileptic attack disorder (Nead) and has been forced to give up work.
Her husband has become her full time carer and their children also know how to look after her during her seizures.
"It's really difficult to pick your self up after every seizure. I'm picking myself up every day," she said.
"I don't see people and it's difficult to go and do things for myself. I've always been independent."
Her husband, Paul Grimes, said: "It's been a massive shock to everyone, especially the kids. Zoe has zero quality of life at the moment."
What is non-epileptic attack disorder (Nead)?
A non-epileptic attack is a type of seizure. It can look similar to epileptic seizures or fainting spells, but it is not caused by abnormal electrical discharges or blood pressure.
The term "non-epileptic seizure" is a well-recognised and common disorder that affects one in four patients coming to epilepsy clinics.
The main mechanism for seizures is a normal brain reflex called dissociation which seems to go into overdrive in some people, causing symptoms like seizures.
Non-epileptic attacks happen when the brain can't handle particular thoughts, memories, emotions or sensations. They can also sometimes relate to stress or a previous experience of trauma, such as something outside your control which feels too hard to bear.
Mrs Grimes had her first seizure in May and a second in July, by September they were happening daily.
She has been told there is no medication available which would help reduce her seizures.
The couple said they do not keep her condition from their children, and they now know what to do to help when their mum has a seizure.
Their youngest daughter said: "Sometimes they're quite scary. I try to help her as much as possible."
Her older sister said: "I just try to make sure she's as comfortable as possible and I try to comfort her to make sure she's OK. I try to make sure she's OK."
Mrs Grimes said at first she felt embarrassed and isolated because of her condition, but now posts videos on social media to raise awareness of Nead.
"Just sharing my story has helped us, and it's still doing that. I'm always open to talk to anyone, and if I can help anyone then I will."
Related Internet Links
The BBC is not responsible for the content of external sites.