Brighton vigil: Chief constable defends handling of Everard event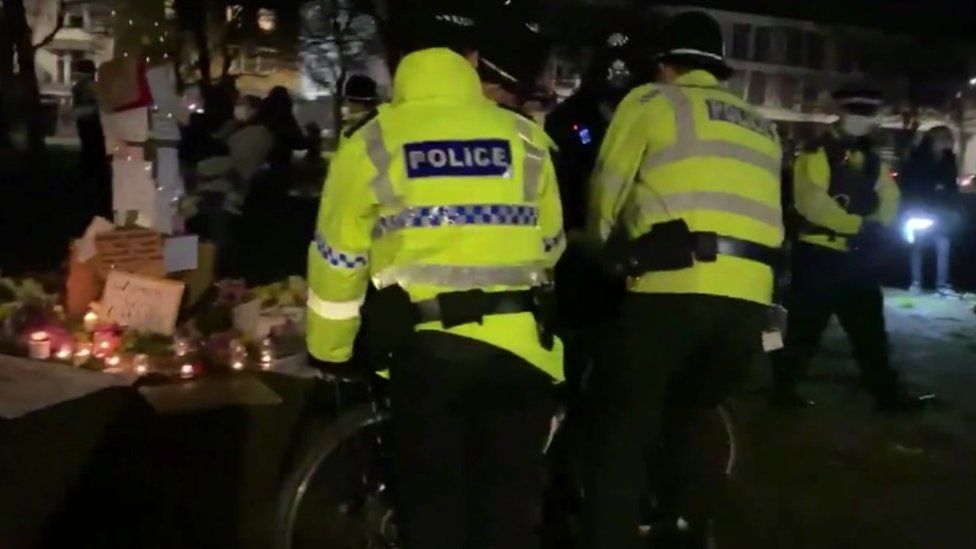 Sussex Police's chief constable has conceded the force could have policed a vigil held for Sarah Everard "more sensitively" after public criticism.
But Jo Shiner said the "vast majority" had supported the way officers had handled the event and that she was happy action taken was "proportionate".
Brighton MP Lloyd Russell-Moyle said officers' behaviour was "unacceptable".
More than 150 people attended the event, which the chief constable said moved from a "peaceful gathering" into a "much more animated" protest, with "exceptionally offensive chants" aimed at officers.
An attendee accused police of an "unjustified use of force" and a woman was filmed being removed.
But Ms Shiner said officers had acted "fairly" and that she could not criticise them.
Ms Shiner told an online meeting held with Sussex's Police and Crime Commissioner Katy Bourne: "Could we and should we have policed that event differently and more sensitively?
"I think on reflection, having listened to feedback, I think there is a balance that we could have done that.
"I think it would be wrong of us not to listen to those perceptions.
"But we must balance that with the vast majority of the public feedback that actually supported the way in which we policed it."
During an "incredibly difficult week", six events were held to mark Ms Everard's death across Sussex, Ms Shiner said.
In total two people were arrested and nine fixed penalty notices were issued.
Ms Bourne said people had written to her to "express their concerns" following the event.
"But equally we've had others who have said how amazed they are of the tolerance the officers showed," she said.
Related Internet Links
The BBC is not responsible for the content of external sites.