Cargo ship slips mooring and blocks Littlehampton harbour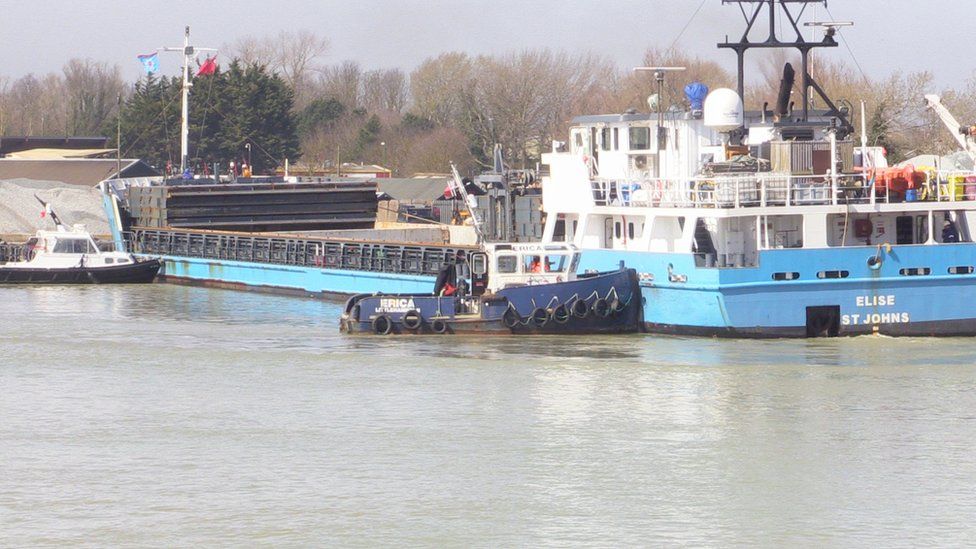 Scenes reminiscent of the Suez Canal have come to a West Sussex river when a 263ft (80m) cargo ship got stuck.
The Elise became partially loose from its moorings in Littlehampton harbour in the early hours of Tuesday.
The ship's stern drifted about 100ft (30m) into the River Arun, almost blocking entrance to the harbour.
The Elise was brought back to the bank at about 13:15 BST by a smaller vessel, and was not thought to have sustained any damage.
The Suez Canal has reopened after the 400m-long (1,300ft) Ever Given got wedged across the waterway, blocking one of the world's busiest trade routes.
The Antigua and Barbuda-flagged ship Elise had entered Littlehampton Harbour at about 01:15 BST and moored up.
As the tide fell in one of Elise's mooring lines parted and the vessel's stern drifted nearly 100ft (30m) into the River Arun,
The ship was left blocking most of the waterway and at the mercy of the tide.
Ships were still able to pass through a narrow gap by the west bank, a Littlehampton harbour spokesman said, and no injuries or pollution were reported.
Related Internet Links
The BBC is not responsible for the content of external sites.