Birling Gap: Cliff collapse warning after people pose near edge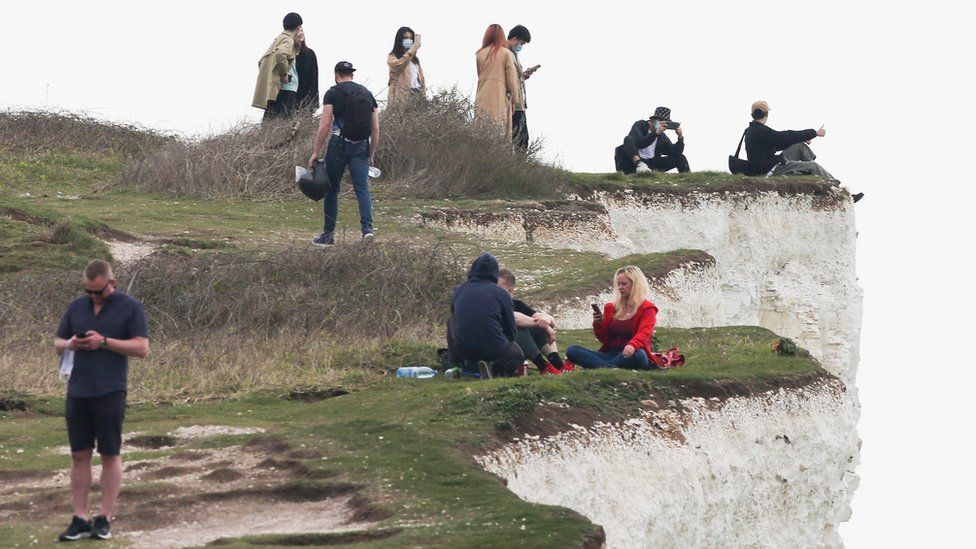 Coastguards have issued a fresh warning of the dangers of standing near cliff edges after people were caught posing for pictures close to the verge of Birling Gap.
Visitors have travelled to chalk cliffs in East Sussex over recent days.
The Birling Gap coastguard rescue team said a "significant amount" of the cliff had crumbled away this year.
It urged people to "stay well away" from its cliff edge and base in case rocks give way.
The rescue team said it was "expecting a very busy weekend" after lockdown restrictions were eased.
A statement on its Facebook page said: "We would like to avoid a repeat of last summer when we found many access points and access roads blocked having a major impact on our response times in an emergency.
"Remember, it could be your loved ones in need of our assistance."
Safety advice from the National Trust, which owns Birling Gap, states that cliff falls and erosion are part of the landscape.
Related Internet Links
The BBC is not responsible for the content of external sites.