Hastings sewage leak: Bulverhythe hut owner 'devastated'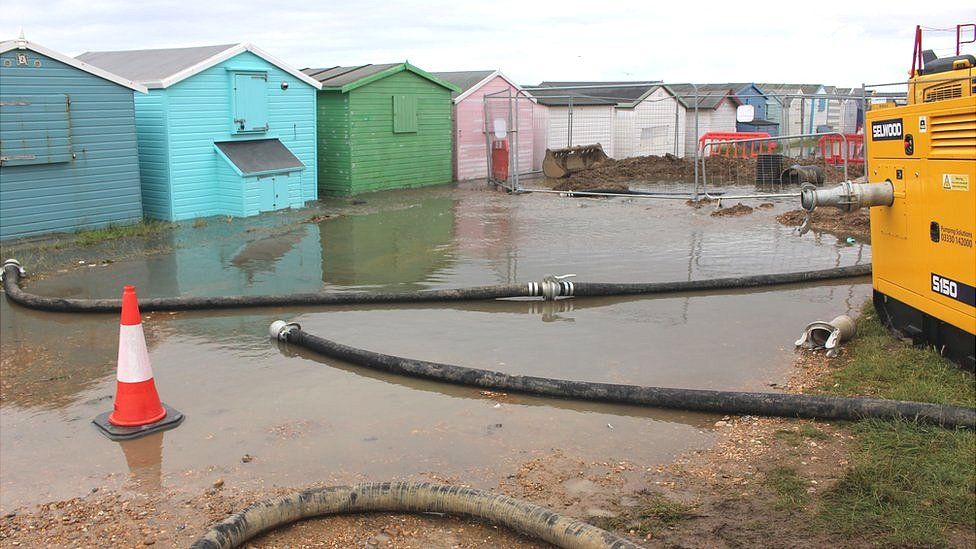 A beach hut owner in an area flooded with raw sewage said it is "devastating" to the environment and has ruined people's summer.
The large sewage pipe burst on Wednesday at Bulverhythe beach, Hastings, East Sussex.
Catherine Tajima-Powell said: "I'm going home to cry, it's devastating."
The pipe carries more than of 540 litres of sewage per second.
Southern Water is continuing repairs over the weekend with specialist contractors, and pledged to restore or replace damaged property.
Ms Tajima-Powell said the waste had soaked into the shingle, polluting areas with protected plants, and is seeping into the back of her hut.
"I don't know how they can possibly clean it up", she said. "The sea and our beaches are everything to our industry and community."
She accused the company of not maintaining its infrastructure.
"Southern Water has a record of regularly releasing sewage into the sea. It must stop," she added.
In July Southern Water was fined a record £90m for deliberately dumping sewage into the sea at 17 sites from Hampshire across to Kent.
Hut owners pay Hastings Borough Council about £1,900 in annual fees, but Ms Thaima-Powell said the huts "can't be valued" because of the joy they give people, especially since the pandemic.
"This is such an important place for people. Our summer is ruined.
"Let's face it we aren't going anywhere else, are we?"
Paul Barnett, deputy leader of the council, said: "We are looking forward to sitting down with Southern Water and the Environment Agency and understanding exactly what happened here, and how they can assure us it won't happen again."
The damaged section of sewer was removed on Saturday and work began to install a replacement section.
CCTV footage from up and down the remaining sewer pipe is being analysed by specialist engineers to ensure there are no other issues.
On Friday Dominic Hallett, Southern Water's operational control manager said: "No pollution is acceptable to our customers or us and we apologise for the disruption.
"We are committed to making the repair as quickly as possible and to minimising impact on the environment."
Southern Water admitted nearly 7,000 illegal spills between 2010 and 2015.
Related Internet Links
The BBC is not responsible for the content of external sites.