Crawley: Two omitted soldiers' names added to war memorial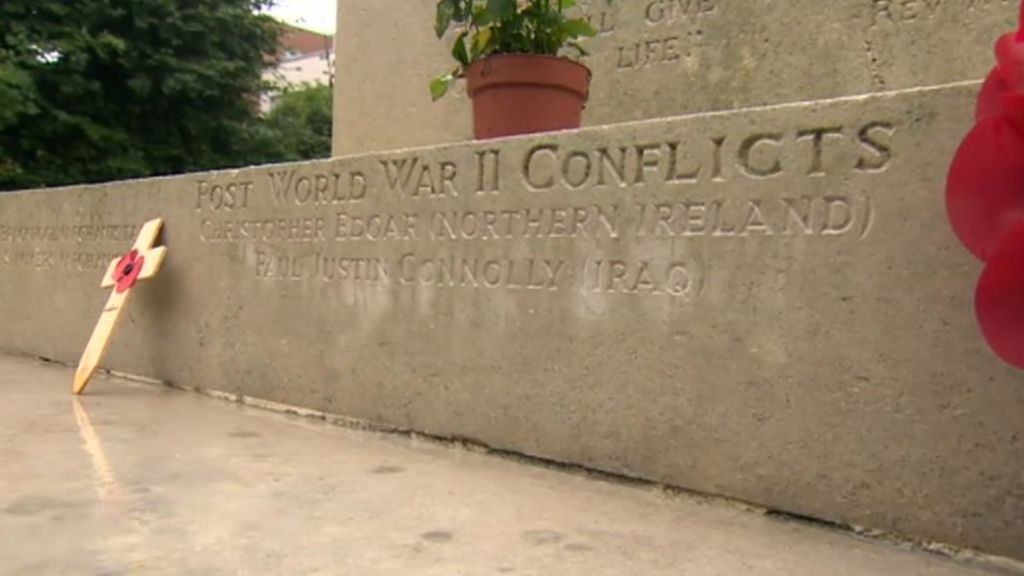 The names of two soldiers who were killed in action have been added to their hometown war memorial, including one who died 52 years ago.
Sgt Paul Connolly died on 26 December 2004 in Iraq.
Craftsman Christopher Edgar was killed in Northern Ireland on 14 September 1969, a month after the British Army was deployed.
It is believed their names were omitted from the memorial in Crawley, West Sussex, due to an oversight.
Paul Gooderson, from the Armed Forces and Veterans' Breakfast Club for Crawley and Horsham, said: "The supposition is that the families weren't military families and they didn't realise that the names should be on there.
"There isn't an organisation that makes sure that the names go on the memorials, so nobody can be at fault. So all we're really doing is making it right for the families."
Mr Gooderson said Craftsman Christopher Edgar, from the Royal Electrical and Mechanical Engineers, had been awarded the General Service Medal for Northern Ireland, but it was never issued to him.
The Queen Elizabeth Cross, which is given to the next of kin of people who have died for their country, together with the General Service Medal, were presented to Craftsman Edgar's 94-year-old mother Myrtle.
At a ceremony at the war memorial, the two men's names were unveiled by members of their families, and the Last Post was sounded.
Related Internet Links
The BBC is not responsible for the content of external sites.