Royal Sussex Hospital services in 'extremely unsafe situation'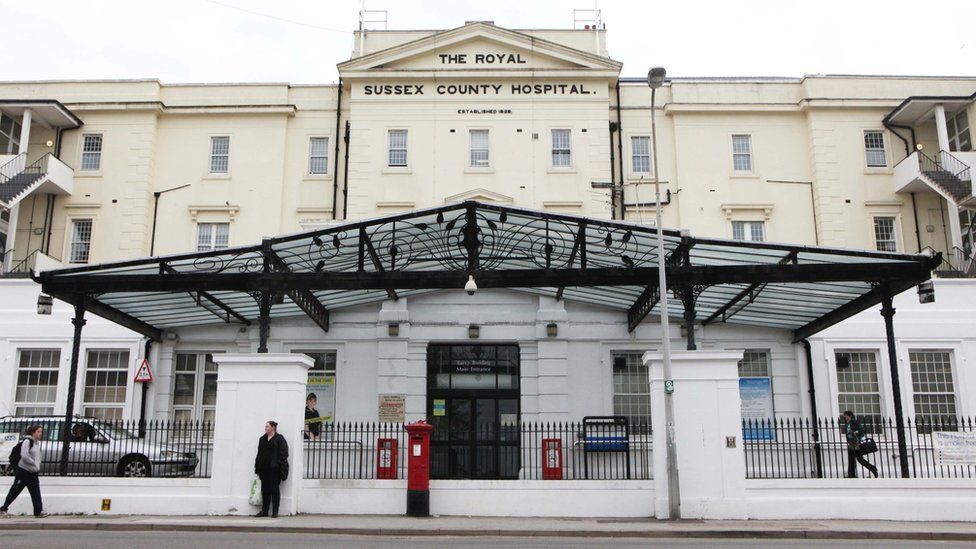 Doctors at a Brighton hospital have written to their chief executive, warning about serious clinical safety concerns and burnout amongst staff.
Consultants said services at The Royal Sussex County Hospital were in "an extremely unsafe situation" and some surgery should be diverted elsewhere.
The letter says intensive care staff and theatre nurses are suffering with post-traumatic stress and depression.
The hospital trust said it was aware of the pressures described in the letter.
The doctors wrote "elective surgery must be proactively diverted" elsewhere.
"Consultant anaesthetists are having to work as recovery nurses as there are no recovery nurses, and that delays the next operation," BBC South East's health correspondent, Mark Norman said.
Management 'uncaring and incompetent'
A document seen by the BBC shows staff have raised concern including a "downward spiral of losing many experienced staff". Operating theatre staffing levels were described as "dangerously low" and "morale has reached crisis point".
The document described "failing" management that is "dysfunctional, uncaring and incompetent".
It said theatre nurses were left unsupported, and there was "no compassion, no understanding for staff's wellbeing, mental state, tiredness and exhaustion".
David Liley, chief executive of the patients' group Healthwatch Brighton and Hove, said: "These seems to be a rift emerging between the people that deliver the care and the NHS managers. If consultants and doctors are not happy, then we need to resolve that."
The hospital has been approached for a response to the document. It said it understood concerns, but it would be wrong to present this as a disconnect between staff and senior management.
By Mark Norman, health correspondent, BBC South East
It's worth thinking about what these senior staff are saying.
They describe their own surgical department as "extremely unsafe".
They want to see planned surgery moved out of this major hospital fully understanding the pressures other hospitals are already under, and they are worried patients' safety is under threat with colleagues exhausted.
It's a snapshot into how Covid has both caused a crisis in healthcare and also exaggerated and highlighted staffing issues that existed before the pandemic.
There are no quick fixes but the doctors who wrote this letter will hope that by doing so the whole health system will try and find a response that helps them get through the coming winter.
Rob Haigh, medical director at University Hospitals Sussex, which runs the Royal Sussex County Hospital, said: "Our teams have made huge efforts to ensure our resources are focussed on the most clinically urgent patients, including the need to prioritise emergency patients."
He said the hospital was looking at ways to ease "the unprecedented pressure our staff are facing as a result of the pandemic".
Mr Haigh said: "To ensure we continue to provide safe care, we have also redeployed staff from a range of areas to support the pressure on critical services, including surgery and intensive care, and regrettably this has meant we have had to postpone a number of planned procedures."
Related Internet Links
The BBC is not responsible for the content of external sites.