Covid: Sofitel Gatwick quarantine hotel evacuated amid 'chaos'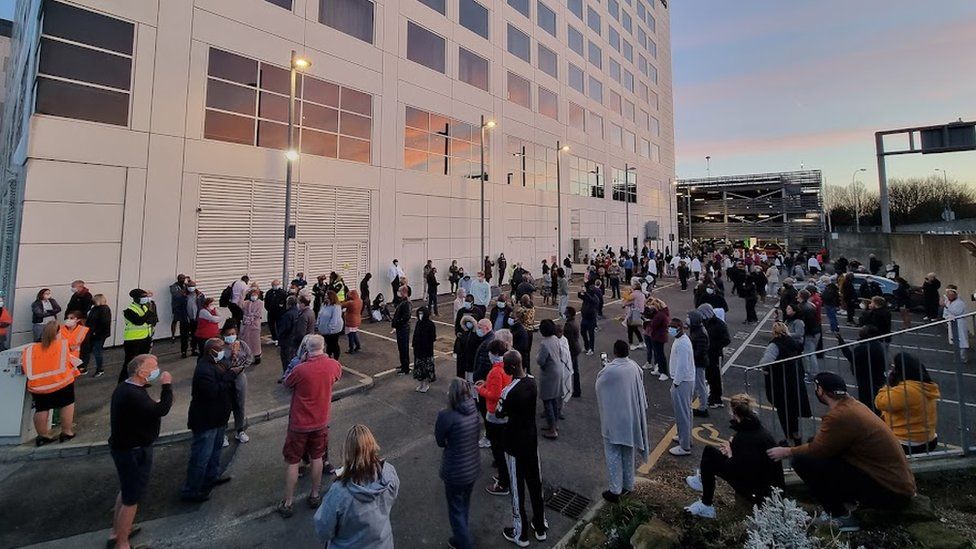 An evacuation at a Covid quarantine hotel near Gatwick took place amid "chaos", those staying there have said.
Pictures were posted on social media of crowds gathering outside the Sofitel hotel, some wrapped in blankets and towels, after a fire alarm went off.
Chris Styles, who is at the hotel with his partner, said it was "total chaos". Other residents described it as a "super-spreader event".
The hotel has been contacted for comment.
Jonah Balmford, who is quarantining with his wife, claimed problems were down to security guards on site who he believed were sub-contracted from two private companies, but he said hotel staff did what they could to manage the situation.
Mr Balmford, from Cambridgeshire, said people were initially told to go back to their rooms because the alarm was "just a drill", with security guards trying to stop them going outside or entering stairwells in the 10-storey building.
He said: "The situation was a shambles and people were scared....There was no social distancing."
One woman in a wheelchair waited for 40 minutes for help, he said, while an ambulance stayed at the scene for four hours and no-one knew why.
He said police threatened to arrest people who did not stay in the car park but there was no room to space out until officers cordoned off the road. The BBC has contacted Sussex Police for comment.
"It could easily happen again and what if this is a real fire - what will they do?" he asked.
Mr Styles said: "Our floor had no security guards around to direct us to the stairs, so people were walking around in a circle.
"We did find the stairs, got down and there was chaos outside hotel. People half-dressed, huddled together, it was a super-spreader event. There was zero leadership."
He said staff brought thermal blankets but people were outside for an hour in freezing temperatures with no register taken.
Meanwhile someone collapsed in the foyer before everyone was "crowded into lifts" to get back to their rooms, he added.
He said residents had also heard a person on the first floor had tested positive for coronavirus, adding: "Everything about quarantine was violated from the moment the alarm went off."
The Department of Health said it was "working with our security providers to ensure the role they play in evacuation as set out within our standard operating procedures is fully understood and adhered to".
A spokesperson added all guests were evacuated safely.
A spokesman for West Sussex Fire and Rescue Service said firefighters in one pump responded to an automatic fire alarm at the Sofitel London Gatwick Hotel on Northway just after at 07:40 GMT.
He said: "Upon arrival, an evacuation of the building was already under way.
"Firefighters quickly established the alarm was a false alarm, and no firefighting action was required."
Related Internet Links
The BBC is not responsible for the content of external sites.