White squirrels set up home in Teesside forest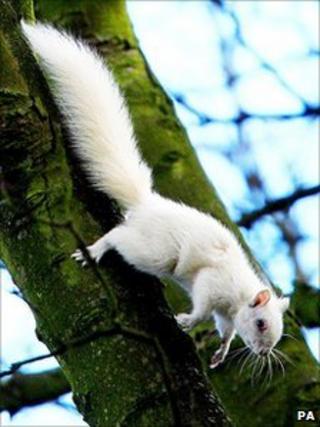 A pair of rare white squirrels has been spotted setting up home in a forest hideaway on Teesside.
Visitors spotted the squirrels in woodland at Guisborough Forest.
The Forestry Commission said the animals were grey squirrels which had developed white pelts due to a rare genetic mutation.
A commission spokesman said the chances of finding the all-white animals together in one place was about 100,000 to one.
Wildlife ranger Cath Brason said: "There has been the odd white squirrel in the population here now and again for the past 30 years, but this is the first time ever there has been two.
"The white gene must be there in the gene pool.
"Their fur makes them more vulnerable to attack from predators as they have no natural camouflage, so they are doing well to be here at all.
"They keep to the part of the woodland with the fruit-bearing trees. They seem to like sweet chestnuts."
The 900 acre (360 hectare) forest near Middlesbrough is home to a range of wildlife, from badgers to dragonflies and adders.
The commission said it believed the squirrels were the only ones living in 750,000 acres of forest in North Yorkshire, Northumberland, and County Durham.
The squirrels are not thought to be albino as they appear to have eye pigmentation. True albino animals lack melanin and are white with no markings and with unpigmented pink eyes.