Longest-serving Cleveland Police horse dies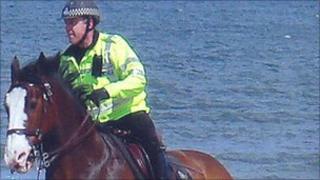 Cleveland Police's longest-serving horse has died following a short illness, the force has said.
Cleveland, or Jimmy as he was best known, joined the force in 1992. He died following a bout of colic - the most common cause of death in horses.
Pc Christopher Bancroft, who worked with Jimmy for nine years, described the animal as a "trustworthy friend".
The pair gained national fame in 2004 after successfully pursuing the drivers of a stolen car across Middlesbrough.
Jimmy, who died aged 22, and another police horse called Huntcliffe helped give chase to a stolen Ford Orion and eventually cornered two men after a 20-minute pursuit.
At the time Jimmy was described as one of the force's fastest horses.
Mr Bancroft said: "Jimmy and I had a fantastic working relationship, he was a very friendly and courageous horse with an excellent temperament and a trustworthy friend.
"It was a pleasure to work with him each day."
During his service with Cleveland Police, Jimmy was involved in 'All The Queens Horses' at the Queens Golden Jubilee in 2002 alongside more than 100 other police horses.
Jimmy was also on duty during former President George Bush's visit to Trimdon and was part of the police presence at numerous football matches.