Teesside firm is fined over scaffolding collapsed.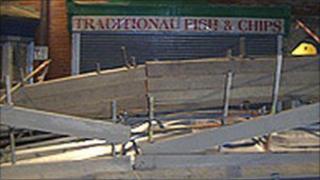 A firm has been fined £4,000 two years after scaffolding collapsed on a Teesside street injuring a man.
A number of cars were also damaged when a gust of wind blew the scaffolding down in Jedburgh Street, Middlesbrough, on 18 January, 2008.
William Bedford, of B & J Scaffolding, in Redcar, admitted a health and safety breach at Teesside Magistrates' Court.
The firm was also ordered to pay £2,500 costs. The scaffolding had been erected as part of house restoration work.
The injured man was taken to hospital but his injuries were not serious.
Significant risk
The hearing heard how a Health and Safety Executive (HSE) investigation showed that the scaffolding was not adequately secured to the properties.
After the case, HSE Insp Natalie Wright, said: "The scaffold had been used as a working platform for at least five days before the incident, by workers on site carrying out work to the house fronts.
"It could have collapsed at any time, creating a significant risk to workers and members of the public.
"This incident demonstrates how important it is for contractors to follow the requirements for the construction of scaffolds.
"Contractors need to ensure that they meet the relevant standards in their work to erect safe and stable scaffolds, so that they do not expose workers and members of the public to risk."