Teesside villagers 'isolated' by landslip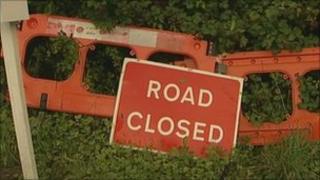 Residents of a Teesside village are calling upon the council to press ahead with repairs to a road which has been closed for more than two years.
Liverton Mill Bank was shut in March 2008 after a landslide.
Since then, people living in Moorsholm have faced lengthy detours to reach the nearest town.
Redcar and Cleveland Council said it had approached specialist contractors for estimates for work to stabilise the bank, and repairs would begin soon.
Currently the only way in and out of the village is via the A171 Guisborough to Whitby Road.
Locals said that as well as adding time to their journey, the increased petrol use is leaving them out of pocket.
Ground investigation
There are also safety concerns, Karen Brown said that there was a scare when her father was taken ill.
She said: "Our doctors are from Loftus, which created a problem because they had to go right round to get to us, which could have been a vital 15 or 20 minutes."
Local councillor Steve Kaye said he had received a number of complaints.
"Every time I go to the local pub people put me on the rack over it," he said.
"I try to defend the council, but I'm afraid after two and a half years the position is indefensible."
Redcar and Cleveland Council said in a statement: "Ground investigation and monitoring work has been undertaken to determine the cause of the landslip and to design a cost-effective solution.
"After a tendering period, the council awarded the contract to St Astier Ltd, with a view to starting on site this month.
"The work is expected to take between four and eight weeks."