Teesside soldier's family receives Elizabeth Cross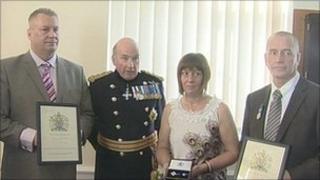 The family of a Teesside soldier who was shot in Northern Ireland more than 37 years ago has been presented with a medal.
Pte Raymond Hall, 21, from Thornaby, was shot in the back while on a patrol in east Belfast on 7 February 1973 and died later in hospital.
His platoon commander was Richard Dannatt, who later became head of the British Army.
Gen Sir Richard presented Mr Hall's family with the Elizabeth Cross.
Sir Richard, who was a lieutenant at the time, was standing next to Mr Hall when he was injured. They were serving with the Green Howards.
Family overwhelmed
He said: "There is no question that I would be anywhere else than here today.
"And I am absolutely delighted and privileged and honoured to be invited by his family to pass the Elizabeth Cross."
The family said they were overwhelmed so many people had turned up to see the award being presented.
He died in the Royal Victoria Hospital, Belfast, on 3 March 1973 and his funeral was held in Thornaby.
His sister Gillian, who was 11 when her brother died, was presented with the Elizabeth Cross. Her brothers Peter and Michael were presented with scrolls. They were 15 and 10 at the time.
The family had asked for Sir Richard to present the medal.
The Elizabeth Cross and Memorial Scroll are given to families of armed forces personnel who have died on operations in recognition of their loss and sacrifice.